Bleeding Heart (Tribeca Review)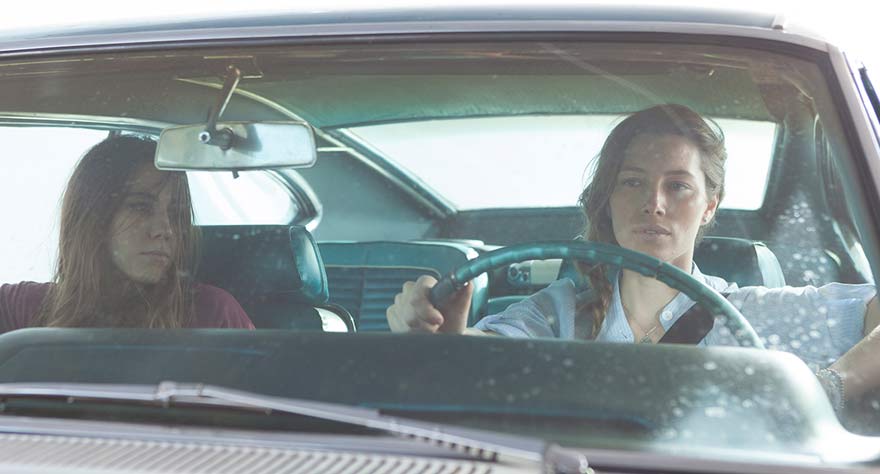 Two sisters reunite in this soft-spoken but satisfying philosophical drama.
Diane Bell's second film melds her Masters degree in Mental Philosophy and her experience as a yogi in a film that thoughtfully, though somewhat obviously, questions the difference between living peacefully and living indifferently. The philosophical depth of the film remains somewhat shallow, building to an inevitable conclusion, albeit one that is incredibly satisfying. Bell, who also wrote the script, takes two modern opposites, a zen-like yoga instructor and an abused sex worker, to explore whether violence is an acceptable way to combat violence. Bell really only skims the surface of so broad a question, however, by providing a scenario where very few alternatives are provided.
The yogi is May (Jessica Biel), a yoga instructor about to open her own studio with her boyfriend Dex (Edi Gathegi). She's been trying to track down her birth family and finally gets real news from the private investigator, she has a sister, and she's not very far away. Despite Dex's cavalier comments that May should wait to reach out to her newfound sister so she's not distracted from their work, May can't wait to connect with the sister she never had. Appearing on her doorstep her sister Susan (Zosia Mamet), or Shiva as her friends call her, is just as surprised to learn about May. Their mother died when Shiva was young, and she was put into the foster system and then fell in with her current boyfriend Cody (Joe Anderson), an emotionally and physically abusive type.
In trying to connect with her sister, May quickly learns Shiva has led a very different life then her own and is currently in a bad spot. Shiva, without any shame, admits to being a sex worker, Cody serving as her pimp, and makes it clear to May she doesn't require any saving. May and Shiva get away for a night to May's mother's house in Santa Barbara without telling their respective significant others. May seems to want to hide from the results of the success she's built, and Shiva may or may not be taking advantage of May's good intentions.
Their bond appears to be mostly built on their shared bloodline, their obvious cultural differences being what they are. But when things start to heat up for Shiva, as Cody's jealousy of her new relationship gets dark, and as all the privileged people in May's life encourage her to turn a blind eye and ignore Shiva's situation, the tension inside of May builds to a breaking point. Though it's less a breaking point, and more a path that has been rather clearly laid out for her.
Biel and Mamet have an easy chemistry, if not especially strong. Biel hasn't played this squeaky clean since 7th Heaven, and Mamet shreds her vapid, material girl image as Shoshanna from Girls well enough, aided by some heavy eyeliner. Her ambiguity and Neither of them seems too far out of their comfort zone, but play their parts well. Unfortunately the other characters play their roles with clear intention to serve their purpose to the story.
May's mother, played by Kate Burton, is clearly sheltered, treating Shiva with clear disdain, and keeping her conversation with May focused on her intentions to re-decorate her already up-to-date manicured bedroom. Dax is so un-supportive it's hard to believe May and he are destined to last, and he serves to push May away conveniently. And Cody is so blatantly abusive, one can hardly imagine a different fate for him.
The film, much of which is spent in May's awesome vintage car, keeps up its rather neutral stance with some similarly neutral tones. The music also present, but un-intruding. It feels as though Bell was maybe attempting some juxtaposition between May's zen-like life and Shiva's chaotic and violent one, but she could have taken it a few notches further to better effect. But for all of its line-riding, Bleeding Heart does still feel especially gratifying in its conclusion. Bell tells a predictable tale, but it comes as a good reminder. She may not be trying to win the war on complacency, but she provides a soft-spoken genuflection toward the power of community.
Bleeding Heart (Tribeca Review) Movie review