Bird People (TIFF Review)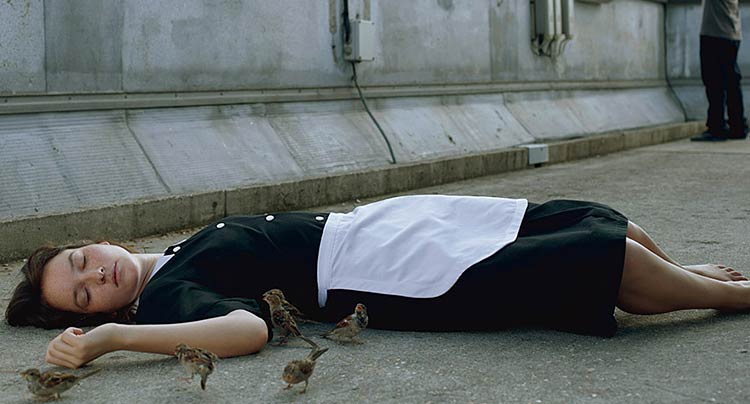 A split storyline between similar characters provides two unique ways to tell a tale.
Bird People begins with a montage of people coming and going on subway trains throughout Paris. It's a bit of an odd start until the perspective changes: suddenly everyone's thoughts on the train can he heard, the camera profiling each person in a train car before settling on hotel maid Audrey (Anaïs Demoustier). It's a delightfully executed sequence, mainly due to its unexpected shift from observational filmmaking to something more fantastical. And it's not the only surprise Bird People has in store.
In a lengthy prologue, Bird People introduces its two central characters before splitting off into two parts. The first part dedicates itself to Gary Newman (Josh Charles), a Silicon Valley businessman staying at the same hotel Audrey works at. After a day of boring business meetings, Gary makes a sudden decision to throw his entire life away. He resigns from his job, telling his wife (Radha Mitchell) he's leaving her, opting to stay in Europe and start over. The film's primary location, a Hilton hotel standing next to an airport runway, gives insight into why Gary wants to abandon everything. It feels detached from the world, surrounded by paved runways and people transitioning from one place to another. Director Pascale Ferran puts a heavy emphasis on themes of loneliness and alienation in Gary's story, something that runs throughout the second half but in a lesser capacity (more on that later).
Rather than use Gary's decision as a launching pad for the narrative Ferran, along with co-writer Guillaume Bréaud, dwell entirely on the ramifications of Gary's actions. Despite Gary expressing his desire to break free from his suffocating lifestyle, he never leaves the hotel, instead fielding calls from his co-workers and lawyer as he sorts out the logistics of resigning and selling off several assets. This culminates in a 15 minute sequence where Gary and his wife argue over their marriage. Ferran and Bréaud's detail-oriented approach, along with Josh Charles' excellent performance, make Gary's story a compelling drama about the difficulties of starting a new life.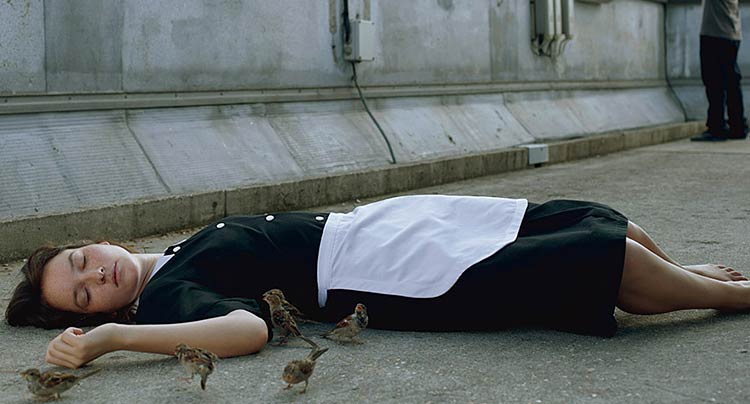 But when the story's second part kicks in, swinging the focus back on to Audrey, Bird People makes a significant shift. Discussing what happens would ruin the fun in watching such an audacious, baffling reveal. It's better to leave it at this: Audrey spends her days cleaning hotel rooms bored out of her mind until something significant occurs. In this way, Audrey and Gary's stories are the same; both experience something major in their lives, and both have to do with their desires to experience some sort of freedom from their mundane existence. It's just that Audrey's story goes down such a surprising path, a sort of magical realism on a larger scale than the opening, it raises the film to a whole other level.
Ferran's direction takes on another life once Audrey's story kicks in, and the results are incredible. The camera, mostly locked down in Gary's storyline, begins roaming all over the place, whether it's swooping aerial shots or low, canted angles. The hints of eccentricity early on, including the aforementioned train scene and the sparing use of a narrator (Mathieu Amalric), end up taking over every frame. Add to that some incredibly subtle and impressive use of CGI, and suddenly Bird People feels like it's free of constraints that weren't at first evident. It's delightful, go-for-broke filmmaking, a ballsy cinematic choice making the film one of 2014's more unique viewing experiences.
And while Anaïs Demoustier doesn't have the opportunity to show off the same dramatic chops as her co-star, she does a fantastic job making Audrey into a likable, fully realized character. A lengthy 130 minute running time, along with a disappointing final scene, put a small damper on things, but there's no denying how powerfully delightful the film's sea change feels. Through such a bold stroke of originality, Bird People highlights the boundless opportunities makes available through storytelling.
Bird People (TIFF Review) Movie review