Bettie Page Reveals All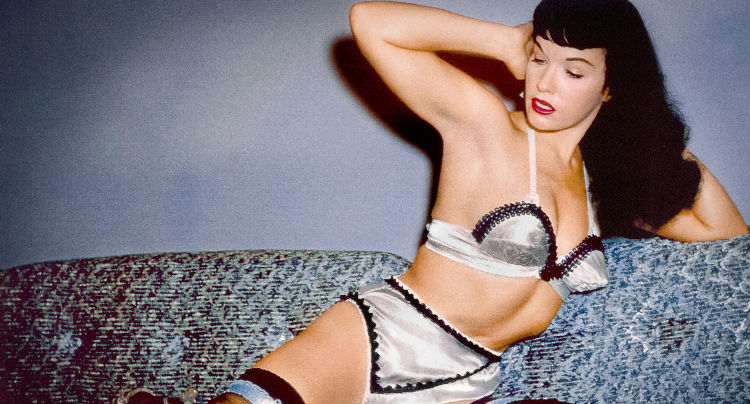 The 'Queen of Pinups' speaks for herself in this earnest, authentic cinematic tribute.
As one subject in director Mark Mori's loving hagiography Bettie Page Reveals All says, when you see Ms. Page in a photograph, it's like she's looking straight into your eyes. In the film, precious audio recordings of Page reflecting on her storied, often stormy life story shortly before her passing in 2008 have a similar effect; it feels like you're sitting on her porch in Nashville at twilight, sipping tea and hanging on every word of her Southern-twanged stories of fame, sex, controversy, heartache, and mental collapse. The influence of the "Queen of Pinups" can be felt throughout fashion and pop culture to this day, from Dita Von Teese to Lady Gaga, though until this film, such a complete, honest cinematic portrait of the woman beneath the black bangs and perfect body hasn't been seen.
There was The Notorious Bettie Page, Mary Harron's 2006 biopic, though Ms. Page herself yelled from the back of the theater during a screening that the film was full of "L-I-E-S…LIES!" according to the account of one of her friends in Mori's film. The feeling of authenticity runs throughout the documentary because, well, we're getting the truth straight from the woman's mouth. How much more authentic could you get? Another thing Page didn't like about Harron's film was the title–she despised the word "Notorious". Her objection to the word reflects an incident she recounts in the film, in which she was arrested during a nude outdoor photo shoot for "indecent exposure". That time, she despised the word "indecent" and even contested the phrasing of the allegations in court. She won.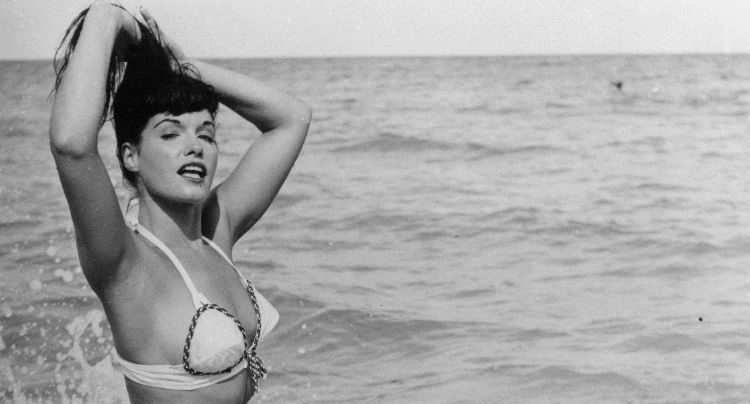 We never see recent images of Page in the film (keeping in line with her voiceover-only appearances in her late years), so what we're left with are the amazing photos that comprise her beloved work from the '50s. The way she's almost magically able to embody both dangerous sexuality and wholesome innocence is beyond my understanding. Even in motion, in the 16mm footage of her prancing and teasing in S&M attire, you're still convinced that this is a girl you'd be proud to take home to mama. She's a tantalizing anomaly, and Mori's just as fascinated with her as anybody.
The film moves into dark territory as it explores Page's years following her disappearance from the public eye in the mid-50's. At one point, she became fanatically immersed in Christianity, began hearing voices in her head, and threatened to stab the son of her soon-to-be ex-husband, earning her a stay at a mental institution. Mori oddly dramatizes some of these disturbing retellings with fan art and cheesy music that don't feel at all appropriate, but Bettie's voice never fails to bring the film back to solid ground.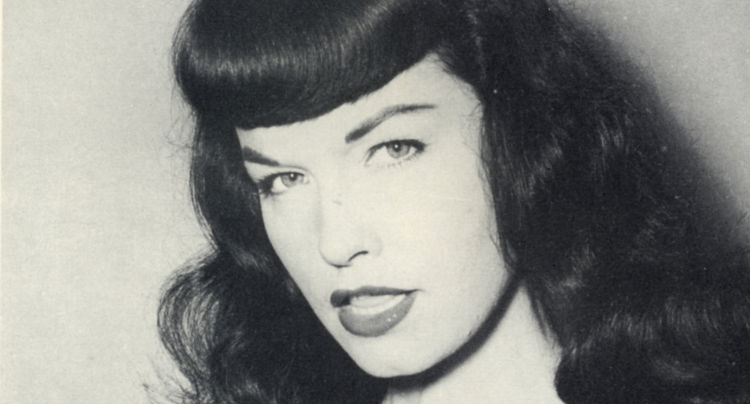 The talking heads who gush about Bettie throughout the film–including Hugh Hefner, Dita Von Teese, Perez Hilton, and a couple of her ex-lovers–pale in comparison to Page's soft-spoken voiceover, in which she's disarmingly frank and unphased, even when recounting the most harrowing moments of her life. When she recalls a terrible situation in New York when five men forced themselves upon her in a parking lot, she calmly refers to them as "snakes". Most of us would be compelled to use much harsher verbiage to describe these "men" (several personal-favorite expletives come to mind), but Bettie's as cool as a cucumber, and it's this unwavering sunny disposition and air of class that makes her image immortal.
Bettie Page Reveals All Movie review