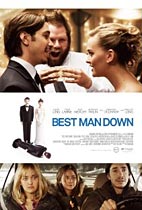 Best Man Down
Best Man Down mashes a bunch of genre's together to come up with a funny, entertaining, and surprisingly emotionally touching film.
Everyone has that friend. The guy that's always too loud, too drunk, makes fun situations better, makes serious ones unbearable, and is strangely predictable in their obnoxious behavior. Lumpy (Tyler Labine) is that guy. After causing a sad, drunken scene as the best man at Scott (Justin Long) and Kristin's (Jess Weixler) wedding Lumpy drunkenly wanders into the desert and dies from a head wound he received while…well, drunk. But is there more to the story? For all of Lumpy's shortcomings, he is a decent guy trying to put his life together, and it takes a tragedy for his best friend Scott to see the big picture with his hard-partying friend. Best Man Down mashes a bunch of genre's together to come up with a funny, entertaining, and surprisingly emotionally touching film.
The tragedy of Lumpy's death not only casts a dark shadow over Scott and Kristin's wedding, but it also forces them to cancel their upcoming honeymoon as Scott feels it is his duty to make sure his friend is properly buried. Both Scott and Kristin essentially write off Lumpy as a down on his luck loser that while a loyal friend, will never really amount to anything meaningful. As they head home to Minnesota to plan the funeral it becomes very clear that Scott does not know his alleged best friend as well as he thought. A mysterious number on Lumpy's phone leads the new couple to Ramsey, a distant teenager growing up in a dysfunctional home. Scott and Kristin assume the worst but soon discover Lumpy and Ramsey have developed an innocent meaningful friendship, and that Lumpy was truly trying help create a better life for this young woman.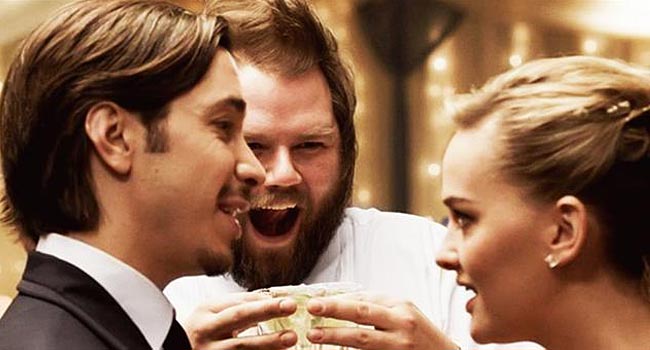 The acting in Best Man Down is one of the strongest qualities found in the film. Justin Long shows nice range as the level-headed Scott, trying to do what he thinks is right for his friend. Tyler Labine is a blast to watch on the screen. He is energetic and fun as you would expect from the role, but shows a lot of emotional depth during several powerful scenes between Lumpy and Ramsey. The real star of the movie is Addison Timlin as the 15-year-old Ramsey. She conveys a lot of maturity and has a very natural chemistry with the older actors. While the title is Best Man Down, her screen presence really leaves you feeling that she truly was the main character of this story.
Ted Koland crafts a clever script that takes a really simple story and lets it naturally unfold. The film has some nice bright funny spots that help keep things in perspective when dealing with the darker, more dramatic tones of the film. Some sub-plots are unnecessary and sort of bog down the script at times. A needless addiction issue with Kristin is hinted at throughout the movie but then is too quickly resolved. Some of the characters in Best Man Down felt contrived and under-developed. I wish the script had spent more time focusing on Lumpy, especially his interactions with Ramsey. Both of those characters were wildly entertaining and could have helped bring more understanding to their fragile relationship.
Best Mad Down is a solid first film from writer/director Ted Koland. The script wanders a bit, but it still packs an emotional punch. The Minnesota scenery is a nice touch as every character shivers the second they get outside, which many people from the area can relate to. If anything this movie will help bring awareness to the misunderstood sub-culture of fat, hairy, loud, drunk guys.
Best Mad Down trailer: