Begin Again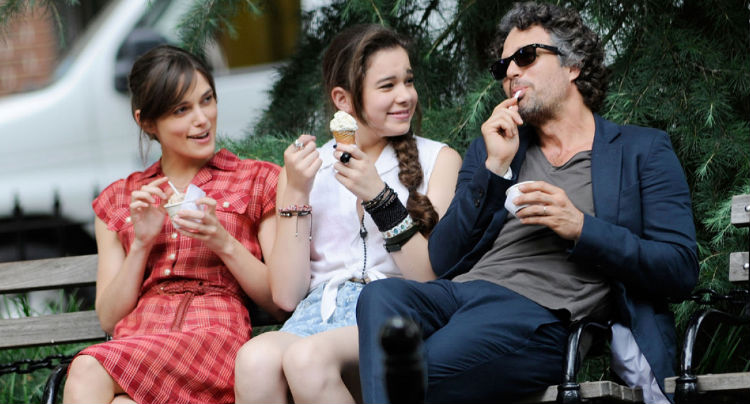 A good-natured rom-com perfectly suited for light summer viewing.
Following the success of Once, director John Carney was afforded a bigger budget and bigger stars to help him in making Begin Again, his follow-up to the eminently popular music-romance mashup. The result is a delightful, breezy movie that'll please those big on cutesy dramedies with little patience for pretension. The film's similarities to Once are indisputable, and it'll be lucky to see half the success of its older brother, but Begin Again will nonetheless hook you with its catchy ditties and irresistible performances.
Carney unabashedly embraces schmaltz with his script, but it's this uncompromising commitment to sweetness that pushes the film over the hump from sickly sentimental to utterly adorable. Set in New York City, the story revolves around a serendipitous encounter between Dan (Mark Ruffalo), a washed up former record exec, and Greta (Keira Knightly), an English singer-songwriter new to the city. Dan sees Gretta at a bar singing a song called "Step You Can't Take Back", a song whose lyrics mirror a near-suicidal experience he had just minutes before. It resonates with him so deeply all he can do is stand there wearing a dopey, drunken smile. Improbability be damned, the film wins us over with a sequence in which Dan imagines the unmanned instruments behind Geta springing to life, laying down the backing instrumentation to her mini pop gem. The film is full of enchanting moments like this, and they're all as easy to buy into.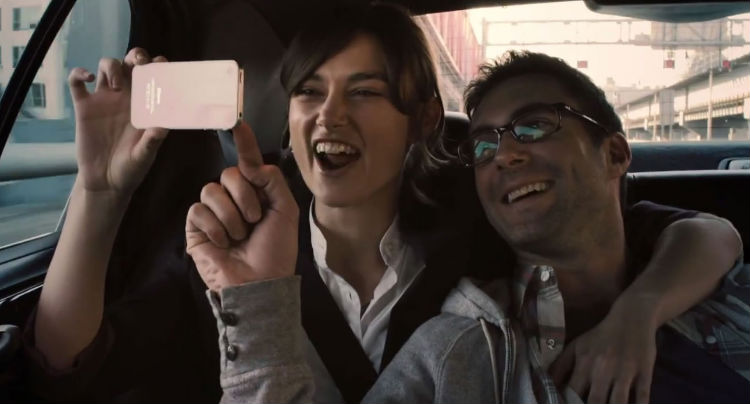 Dan's just been fired from his own record label by his old partner and co-owner (Yasiin Bey), and Greta, a singer who embodies the independent artistry he founded the label on in the first place years ago, is his ticket to regaining control of his career and steering the label back in the right direction after years of relying on no-talent pretty pop stars. Along with a band of musicians plucked from the street, Dan and Greta record an indie pop album in the great outdoors of NYC–in Central Park, on row boats, on rooftops, in alleyways–living out the dreams of every coffee shop musician on earth. The songs, written by Gregg Alexander of "New Radicals" fame ("You only get what you give!"), are beautiful and catchy in the moment, but won't stick to you like the gripping ballads of Once.
Ruffalo, with his messy beard and generally gruff appearance, is a perfectly likable slob, constantly charming with his self-deprecating, pull-no-punches humor. While Knightly is solid as the sometimes spunky, sometimes brooding Greta, but most impressive is her singing voice, which is actually quite beautiful. Steinfeld is the dark horse of the film, sharing wonderfully earnest father-daughter scenes with Ruffalo, with whom she has nice chemistry.
What adds to the film's success is that it actually got a few surprises tucked away in its ostensibly predictable plot. While the obvious trajectory for the two protagonists would be for them to fall in love (Carney does toy with this possibility in a tasteful, lovely manner), things prove to be much more complicated than that. Dan's had a heartbreaking split from his wife (Catherine Keener) and doesn't know the meaning of "quality time" when it comes to his teenage daughter (Hailee Steinfeld), and Greta's just been dumped by her boyfriend of five years (Maroon 5's Adam Levine), who's been acting like a dick since becoming a famous musician. (Levine's facial hair grows throughout the movie to ridiculous lengths, the humor of which is addressed in witty banter between he and Knightly, a nice comedic touch.) Too often do likeminded rom-coms lose their luster due to rote plot mechanics, but Begin Again sidesteps this pitfall, with its characters winding up in slightly different, bittersweet places than you might expect.
Begin Again champions the principles of loyalty over money and realness over fakery, though it flirts with hokey Hollywood manipulativeness so often it almost shoots itself in the foot. It ultimately passes the authenticity test with flying colors, however, due to strong, heartfelt performances and well-written tunes that dovetail perfectly into and out of Carney's script. It won't change anyone's life or be heralded as a modern romance classic, but Begin Again is a fine, good-natured movie perfectly tailored for light summer viewing.
Begin Again trailer
Begin Again Movie review