Arabian Nights: Volume 2 – The Desolate One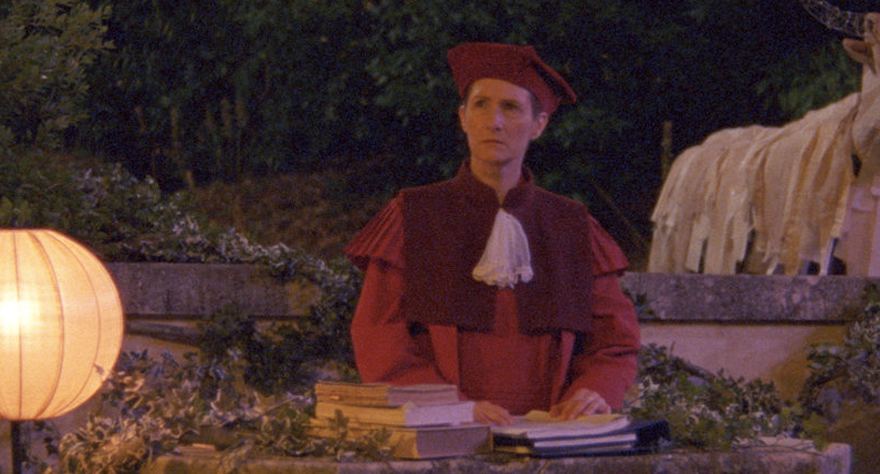 This may just be the most haunting movement in Gomes' glorious, deeply melancholic, symphony.

We plunge into the second volume of Miguel Gomes' Arabian Nights without the introductory support of prologues. Only the familiar yellow titles remind us that what we're about to see is not an adaptation, but an inspiration. Told through fictionalized accounts of actual events that occurred in Portugal between 2013 and 2014, events which left many citizens even more impoverished than before. As soon as The Desolate One ended, only a few fully formed thoughts rose out of the rubble left of my mind. Namely, I silently thanked the director for dividing Arabian Nights into three volumes, for it would be highly detrimental to the overall experience if the audience were tasked with watching all six hours in one sitting.
Partitioned into individual stories—some with multiple narrative tangents of their own—the cinematic wealth of information in Arabian Nights is best digested in fragmented doses. The Desolate One, with its three vastly varied reflections of soul-squeezing desolation, might turn out to be the most emblematic of this richness. A point which—unless I find Volume 3 to be some otherworldly masterpiece—no doubt played a part in selecting this particular volume as Portugal's Oscar entry for Best Foreign Language Film. For even the most emotionally barren tale here, about a reclusive villager of ill-repute on the run from local authorities, is draped in pensive mystery and fried in sun-dried humor. Simao (Chico Chapas) is a son of a bitch, and part of a population of people who are rarely represented on screen. Throughout his story, Gomes constantly pits our perceptions of him and his actions (often bizarre but harmless) with legendary rumors of evil and violence about him, including the reason why the authorities are hounding him. It's a story of evil full of curiosities, imbued in the kind of lonesomeness found under the surface of so many Westerns.
The second story, with a Judge (Luísa Cruz, pulling off the most memorable performance in Arabian Nights so far) presiding over a case that gets ridiculously out of hand is, in all respects, an intense masterpiece of imagination. Arabian Nights hits the peak of its seductive powers in 'The Tears of the Judge' from the increasingly bizarre buildup of crimes and passive-aggressive blame-avoidance and Sayombhu Mukdeeprom's purplish tinctures cinematography which adds to the phantasmagoria in the air. This chapter is the epicenter of the entire piece. The Portuguese court system gets a fantastical make-over in this story; a smorgasbord of cultures, traditions, time periods, and social classes. It's bonkers magic realism with an endless lifespan, peppered with mercurial humor, and momentous beyond words.
The third and final tale in The Desolate One immediately recalls Gomes' beautiful Tabu, thanks to the familiar faces of Isabel Muñoz Cardoso and Teresa Madruga. Centered around a block of apartments, 'The Owners of Dixie' is in the lonely spirit of Simao's story, yet it borrows heavily from the imaginative streak from in the previous chapter. A woman finds a mysterious dog which uncannily resembles her old one, and gives it to her friends in an effort to add some joy into their depressing lives. The dog goes from owner to owner, and is the adorable witness to a perceptible sense of nostalgia and dilapidated human spirit, held delicately together by that strange little thing called love.
My mind turned to rubble by the end because it completely succumbed to the film's undeniable charms. The Desolate One continues where The Restless One left off, building a bridge from literature to cinema. And in more ways than one, this chapter of Scheherazade's storytelling edges closer to the cinematic end of that bridge. As an art form that envelops all others unto itself. It's similar to a piece of classical music; here's the midsection that's more abstract, more contemplative, and slower in sinking in, but only because it's slightly more profound in execution and style than what came before. With its mesmeric mixture of genres and moods, a superb screenplay and inspirational camera work and composition (naked Brazilian ladies sunbathing on the rooftop, in one jaw-dropping shot), The Desolate One may just be the most haunting movement of Gomes' glorious, deeply melancholic, symphony. The Enchanted One is the next and final volume, but it's already clear that we're in the midst of the director's magnum opus.
Originally published on October 1st, 2015 as part of our coverage for the New York Film Festival.
Arabian Nights: Volume 2 – The Desolate One Film Festival review