Along the Roadside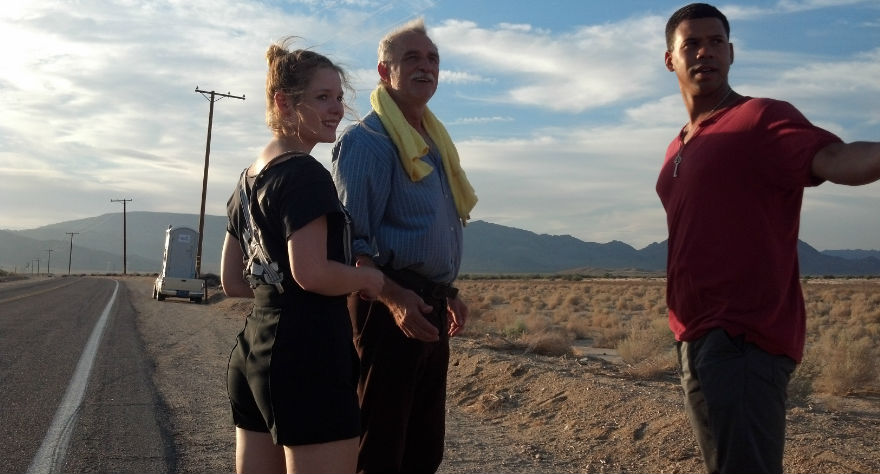 More heart, depth, and surprises than your typical road movie.
An unlikely pair trace the California coast in a white convertible in Along the Roadside, a comedic charmer that has the unmistakable shape of a traditional road movie, though subtle themes of identity and acceptance give it more dimension and roundness than less-thoughtful entries in the sub-genre. Filmmaker Zoran Lisinac, who nearly a decade ago emigrated to the US from Serbia, wrote and directed the film as an homage to the diversity of California, and while some of the cultural commentary and symbolism is a bit on-the-nose by American standards, the film is largely considered taboo in Lisinac's home country. Regardless of where you live, the film's sincerity shines through.
Our main characters come from different worlds, or at least different sides of the world. Varnie (Iman Crosson, better known as YouTube personality Alphacat), is a young, cavalier venture capitalist from Oakland who plans to flee the Bay Area to Southern California upon learning his girlfriend is pregnant with his child. On his way out of the city, Varnie has a run-in (or near run-in, to be exact) with a jubilant young tourist from Germany, Nena (Angelina Häntsch), who he nearly clips with his BMW while she's crossing the street. Appreciative of Nena saving his ass from a meddlesome meter maid, Varnie offers to give her a ride to Southern California, where she plans to see her favorite band, Blonde Priest, at a giant outdoor music festival.
Nena's enthusiasm and penchant for seeing the best in others a pleasant contrast to the more closed-off Varnie. Häntsch, an accomplished theater actor in Germany, is irresistible; you'll want to be her best friend the minute you see her smile, nod, and say "Blonde Priest" in her tickled accent. Crosson's performance isn't as effortless (at times he appears to be putting on a tough-guy act), but he reacts to Häntsch well, and the character finds its stride in the final act. The symbolism of Varnie being black and Nena being colorblind is too blunt and probably unneeded; the actors make a stronger statement with the way they lock eyes and move around each other.
The plot is laid out in classic road movie form: Nena and Varnie have a variety of conversations, we see driving montages, and a handful of pit-stops are made in which they encounter some colorful side characters. Michael Madsen is a standout (as always) as a sketchy, desert-dwelling mechanic wearing an outdated white suit. He does his usual Michael Madsen-ing, squinting like a creep as he delivers lines in the strangest way possible, and it's not a bad thing at all. Popular Serbian actor Lazar Ristovski makes a cameo as an unexpected guardian angel, and another successful YouTuber, Danny Grozdich, is the funniest presence in the movie, playing a method actor who resorts to hilariously unnecessary levels of violence to protect Nena and Varnie.
Lisinac touches on several themes in the script. Varnie's decision to run away from his responsibilities as a future father weigh heavier as the film goes on, and Nena's optimistic, trusting view of humanity gets tested thoroughly. But the film's most poignant statement comes at the very end, when we see what becomes of the relationship between the two lost souls. It's an ending with a lot of guts, a legitimately crushing moment that leaves us with a feeling of melancholy and reflection that lingers nicely.
The film's relaxed, strummy music, by Cole Bonner, sometimes mirrors the characters' introspection too directly, but otherwise is a good sonic through-line for the story. Variety is one of Along the Roadside's key visual strengths, with each location looking distinct and well presented. (If you've ever driven from the Bay Area to LA on Interstate 5, you know it isn't exactly the most scenic of drives, but Lisinac and his team do a great job of gussying up the mostly deserted stretch.) All in all, the film looks and sounds great, especially for its indie budget.
Perhaps the most impressive thing about Along the Roadside is how solid the performances are across the board, considering the lead actors and many of the supporters are virtually first-time screen actors. For Lisinac to get the young talents to work so well with veterans like Madsen and Ristovski, while also juggling the multiple underlying themes, is impressive and proves him to be a new filmmaker with promise and skill. More than just a culture-clash comedy, Along the Roadside feels made with care and compassion, and as a bonus has a few surprises up its sleeve.
Along the Roadside Movie review