Addicted to Fresno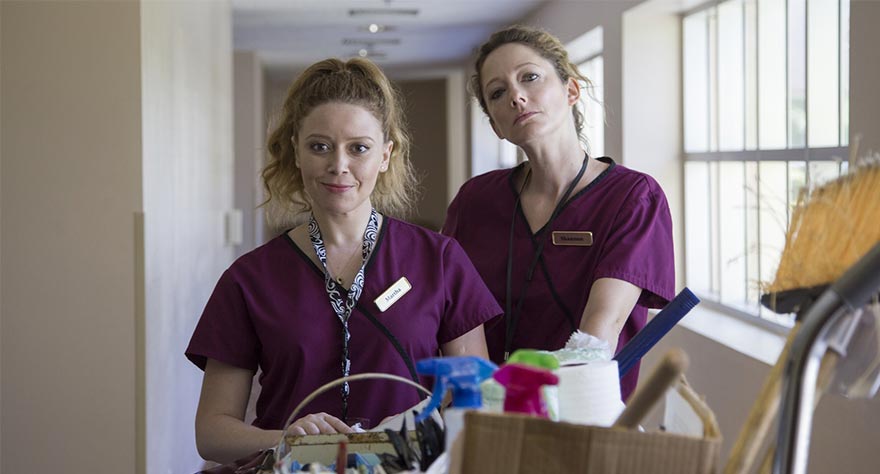 A sisterly comedy banking on bad behavior to fuel its ho-hum comedy.
It takes less than a minute for Addicted to Fresno to state its intentions. This is a story about sisters, but it's not one about sisterly love. Instead, it's a story about how sisters "sink each other," and the image of one of the main characters in a prisoner's outfit means things aren't going to go well for at least one of these women. Yet Addicted to Fresno, Jamie Babbit's (But I'm a Cheerleader) latest dark comedy, isn't about a sisterly relationship falling apart. It's more about the impact a poisonous family relationship can have, and how sibling support can harm and help both parties. But I'm getting a little ahead of myself here. Addicted to Fresno is, first and foremost, a very silly and sometimes mean-spirited comedy that can get a little too goofy for its own good.
After the brief tease at its beginning, the film flashes back to two years earlier when Shannon (Judy Greer) starts her life over after getting out of sex rehab. Her sister Martha (Natasha Lyonne, whose reunion with Babbit will hopefully continue from here on out), a hotel maid, gets Shannon a job so they can work together. Ever since their parents died Martha feels obligated to take care of Shannon, and it's implied that this isn't the first time she's bailed her sister out of a bad situation. Shannon meanwhile is an obnoxiously sardonic type, complaining about how terrible life in Fresno is and taking no responsibility for her faults. Martha's in the midst of a sort-of-breakup with a girl at her gym, and Shannon is covering up that she was in fact kicked out of sex rehab for sleeping with her therapist (Ron Livingston).
It takes almost no time for Shannon and Martha to fall into a routine of arguing with one other, but this time Shannon screws up significantly. Martha catches her sleeping with a disgusting hotel guest (Jon Daly, a sleazy highlight for his brief time on-screen), and in the ensuing scuffle he winds up dead. In an attempt to appease her sister, Shannon claims she was being raped but insists they don't call the cops since as a sex addict they aren't likely to believe her. Martha agrees to help dispose of the body, leading to a failed attempt to convince a couple pet cemetery owners (Fred Armisen & Allison Tolman) that they want to cremate a really big dog. The owners, desperate for cash, blackmail Shannon & Martha into giving them $25,000 in three days or else they go to the police.
Babbit attempts to make a sort of madcap, screwball comedy out of the entire situation, with Shannon and Martha carting their corpse around the city in a bin while resorting to desperate measures for cash. The whole thing feels frantic; within a short span of time the film wildly veers from a botched heist to a cheap "kickass" montage to a dramatic fight, and the constant changes in tone are jarring. It also doesn't help that Karey Dornetto's screenplay seems inclined to pick up and throw away character or story beats without any sense of purpose or resolution. A second heist attempt is thrown in and then tapers off, while the revolving door of supporting characters (including Molly Shannon, Jessica St. Clair, and Aubrey Plaza to name a few) provide light laughs, but make little to no impact. A teen's attempt to launch his hip-hop career at his bar mitzvah is among the basest of the jokes presented.
But Addicted to Fresno is a funny film, for the most part, largely due to its game cast. Lyonne and Greer are both brilliantly cast against type here, with Lyonne taking the role of the cheery optimist and Greer diving into the chance to play a morose, bitchy character. Their performances wind up becoming the saving grace of the film since their wide range and great chemistry together sells the more sincere and dramatic moments in the final act. The ensemble does most of the film's heavy lifting, since the unevenness of the script impacts Babbit's direction as well (it's surprising to see how lackluster her direction can be at times, considering her excellent work on television over the years). The sisterly bond at the center winds up resonating the most, but it seems problematic when the most memorable parts of a comedy are the unfunny parts.
Addicted to Fresno is available via VOD platforms September 1 and in theaters October 2, 2015.
Addicted to Fresno Movie review