A Fuller Life (TJFF Review)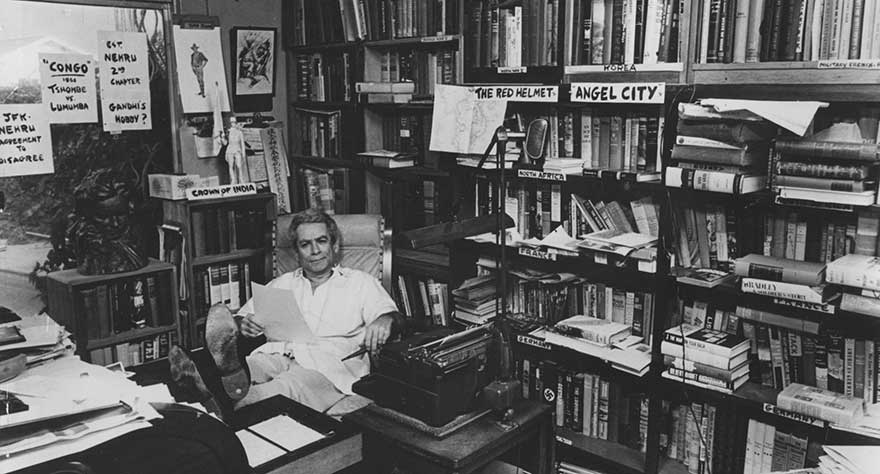 A compelling, star-studded documentary on the life of filmmaker Sam Fuller.
There's been a recent trend with documentaries to use the memoirs of the late and the famous as a primary information source. That trend involves celebrities reading the memoirs, diaries, and other writings of the famously departed. In 2013's Love, Marilyn, actresses including Glenn Close, Viola Davis, Uma Thurman, and Marisa Tomei speak words written by the iconic Marilyn Monroe. From earlier this year, Listen to Me Marlon uses audio recordings of Marlon Brando—from the actor's private collection—to offer a narrative as well as get a glimpse inside the legend's mind.
Now, making its Toronto premiere at the Toronto Jewish Film Festival, comes A Fuller Life, a documentary about the late writer/director Sam Fuller. The source for the doc is Fuller's memoir, A Third Face: My Tale of Writing, Fighting and Filmmaking. Conceived and directed by Fuller's daughter, Samantha, the film gathers a collection of celebrities to read excerpts from that memoir.
The list of celebrity readers is an eclectic one. Some were chosen because of their work with Fuller, like the quartet of Robert Carradine, Mark Hamill, Perry Lang, and Kelly Ward, all of whom appeared in Fuller's The Big Red One (1980). Others were chosen for their personal relationships with him, like longtime friend and actress Jennifer Beals. And others still had no direct connection to Fuller, but still seemed to "fit," like James Franco who, according to Samantha Fuller, reminds her of "a young Samuel Fuller during his formative years." Fifteen celebs in all contribute to telling Fuller's story.
That story is, for the most part, a highlight reel of his life. Entries include tales of his youth in New York's newspaper industry, where he went from being a paperboy to the youngest crime reporter in the city; his time as a spec screenwriter in Hollywood, where he cranked out gritty thrillers (like 1963's Shock Corridor); and his experiences serving in the Army in World War II. (It's noted by Samantha Fuller at the start of the film that Fuller is the only person to have stormed the beaches at Normandy AND made a film about that fateful day.)
As was the case with Love, Marilyn, the structure of this doc allows for varying degrees of quality and interpretation of material based on who is reading. I found Franco to be rather uninspired and Bill Duke (a terrific character actor whom I've always liked) overselling it somewhat. Everyone else is fine, with the exception of actor Tim Roth and director Wim Wenders, both of whom are remarkable. This is not simply because of their "performances," but also because of the stories they read. Roth reads of Fuller's military training (using live ammo) and the storming of Normandy, while Wenders follows immediately with a glorious tale of how Fuller met Marlene Dietrich at a USO show. Their delivery of these points in Fuller's timeline are hypnotic.
It isn't only the recitations that make A Fuller Life such a compelling watch. The dialogue is all Fuller's, having been pulled straight from his memoirs, and every word of it crackles. The author of the hard-hitting novel The Dark Page never lost his literary flair, and it pays off huge here.
Also well-executed is Samantha Fuller's direction. This film isn't simply a collection of men and women reading from a book, of course. As those readers read, footage culled from 160 reels of Sam Fuller's personal collection is shown. This footage adds great weight to what is being read. It is combined with what looks like b-roll, so sometimes it's easy to forget what is Fuller's footage and what isn't, but the overall presentation is still quite good.
Samantha Fuller's use of clips from films written for the screen by her father is also interesting. The clips directly correlate to the points in Fuller's life being covered at the time of the doc. It's fascinating to see how heavily Fuller's screenplays were drawn from, or influenced by, his personal experiences in journalism and war and elsewhere. It's so compelling, in fact, that a visit to Fuller's filmography feels in order.
A Fuller Life (TJFF Review) Movie review