5 to 7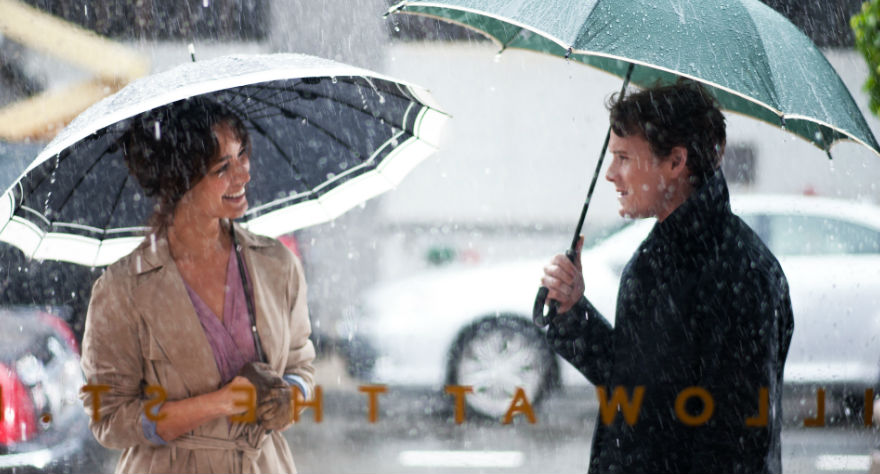 A less-than-novel city romance harboring two solid performances that win you over, scene by scene.
A modern-day romance fantasy set in the ritzier neighborhoods of New York City, 5 to 7 is a charmer and a grower. It's a grower in the sense that its lovebirds, played by Anton Yelchin and Bérénice Marlohe, at first don't quite gel on-screen, but slowly, scene by scene, as the plot gets richer and the emotions intensify, a silky dynamic develops that makes the relationship thoroughly convincing and engrossing by film's end. Writer-director Victor Levin goes for a classical-feeling New York in line with Woody Allen's Manhattan and Annie Hall, or even Mike Nichols' Working Girl, and while he adds nothing revolutionary to the long-standing NYC-romance tradition, he pays homage to the city well enough that the story wouldn't feel quite right had it been set somewhere else.
The corner of 55th street and Fifth avenue is where our unlikely story begins. Arielle (Marlohe), a stunning French woman in her thirties, is standing outside the St. Regis Hotel, treating herself to an afternoon cigarette. Along comes Brian (Yelchin), a twentysomething so taken aback by Arielle's beauty that he stops to light his own cigarette and strike up a chat. It's love (or at least something that looks a lot like love) at first sight. Yelchin's a handsome guy for sure, but Marlohe is a picture of high-class beauty (she was a Bond girl for goodness sake), and it's a hard sell that a woman who moves and talks and looks like her would be so immediately enamored by a young man who, by and large, is your typical NYC hipster.
Things get harder to believe even still. Arielle and Brian enter into a relationship that, by American standards, is a straight-up affair: she's got a husband and kids, but tells Brian they can meet up on any day, as long as it's between the hours of 5 and 7 in the evening. Apparently, this is a common arrangement in France, and Arielle's husband's got a mistress of his own. It's something out of a teenage boy's daydream, but as we watch Brian and Arielle spend more time together, the impracticality of it all becomes easier and easier to dismiss.
At first, we see standard rom-com stuff: Arielle and Brian walk through the park, joke about their age difference, share drinks (Arielle gives him a blindfold taste test at a fancy wine purveyor; he administers a blindfold beer test at a dive bar), and share the occasional under-the-covers tumble at the St. Regis. As more of Brian's personality is revealed, it becomes clearer why Arielle would be interested in the boy. He's far from manly man (his voice is meek, faintly prepubescent), but he entrances her with his intellect and slick sweet talk (a struggling novelist, he has a tendency to wax poetic, which she finds irresistible). Brian finds their unique arrangement incredibly disagreeable at first (as most of us would), but he tries to understand, asking questions and sticking around because, well, he's falling for her. Arielle finds his staunch commitment and cultural confusion cute, and like him, she gets sucked into a lover's free-fall.
Things get more complicated, though, when loved ones outside the "5 to 7" bubble get involved. Brian becomes fast friends with Arielle's kids, and Arielle is a hit with his parents (played by Glenn Close and Frank Langella, bickering and kvetching in light comedy mode). When their love grows too big for their daily two-hour trysts, they're faced with the question of what they're willing to destroy in the name of love. By this point, because of leads' performances, the stakes feel sky-high. Brian's a richer role to embody than Arielle, and it seems Levin thought he'd make the characters' complexities proportionate to the actors' on-screen experience. Yelchin does a great job of conveying the Brian's conflicted and ever-evolving psychological state, but Arielle's arc has less texture, and I'm willing to bet Marlohe would have been able to handle more than what she's given. It would have been nice to have seen more distinctly the gears turning in Arielle's head.
There's something special about New York City in springtime, and Levin captures that intangible aura nicely. The film opens with close-ups of the tiny gilded placards you'll find on most Central Park benches, each engraved with a sweet message, often dedicated from one lover to another. Levin douses the presentation with a bucket of fuzzy nostalgia, filming on the busy streets and by popular landmarks often and classing things up with an old-school, melodic score by Danny Bensi and Saunder Jurriaans.  5 to 7 will break your heart, mend it back together, make it sing, and then break it again. It's schmaltzy at times, the love scenes are shot too rigidly, and the concept isn't exactly novel, but Levin, a first-time director, makes a good impression.
5 to 7 Movie review