3 Still Standing (Hot Docs Review)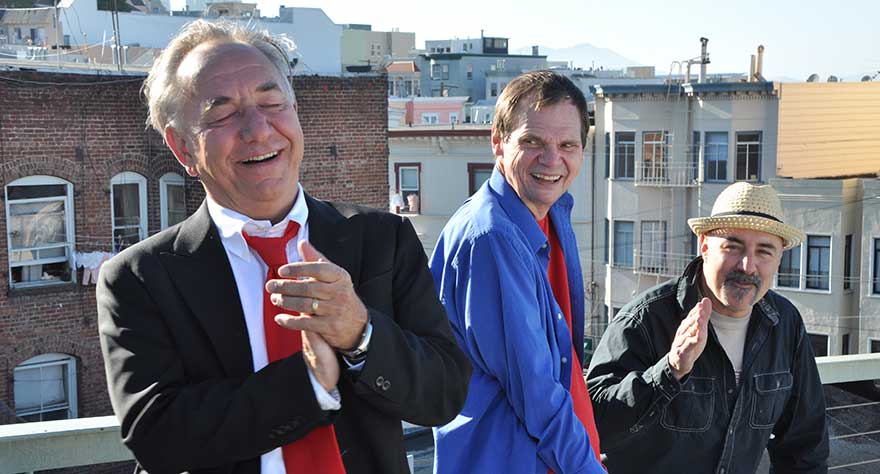 Three stand-up veterans survive three decades of comedy highs and lows in this funny but misleading doc.
My interest in stand-up comedy began at a young age when a friend introduced me to records by George Carlin and Steve Martin. Since then, and over the course of my life, I've memorized comedy routines (from folks like Stephen Wright and Richard Lewis, plus all of Bill Cosby: Himself), recorded Johnny Carson and Dave Letterman nightly to see what up-and-coming comics they might spotlight, donated money to Comic Relief, and once saw Eddie Murphy perform Delirious from the sixth row of a small theater-in-the-round in the Philly suburbs. As life has gone on, I've heard thousands of jokes on TV and in person, as told by hundreds of stand-up comics, some of whom have gone on to greater things. Most haven't gone on to greater things, though.
This focus on stand-up comedy's history and the opportunity for superstardom, as told by three comics who have lived it, is what piqued my interest in 3 Still Standing. The doc, from co-directors Robert Campos and Donna LoCicero, makes its international premiere at Hot Docs 2015.
The film looks at the careers of three comedy lifers—Will Durst, Larry "Bubbles" Brown, and Johnny Steele—during and after the rise and fall of the once-white hot 1980s San Francisco comedy scene. Their stories are told mostly by them, but the film also includes soundbites about the trio and the times from several successful comics to come out of that scene, including Bobby Slayton, Paula Poundstone, Dana Carvey, and Robin Williams.
3 Still Standing is several things. It is first a love letter to the San Francisco comedy scene of the 1980s. The film works hard at this, not only by offering something of a history lesson, but also by strongly establishing how different the comedy of San Francisco stand-ups was when compared to comedy being done around the country. While at times granular, it's still an interesting story, particularly as time marches closer to the present and the national landscape of comedy and its club scene changes for what the consensus believes to be for the worse.
It is also a mini-celebration of the late Robin Williams. His sound bites, and there are quite a few, are riveting, but they are also the hardest to consume because of his loss, and how recently they were recorded. Given the film's focus on the history of the San Francisco comedy scene, Williams certainly deserves considerable mention; he is the most successful comic to come out of that scene. Still, knowing this film is one of his last is hard to bear.
And, of course, 3 Still Standing is a funny look at three funny men. There's a reason why Durst, Brown, and Steele are still working today—they are very good at what they do, and that has translated to long and (overall) healthy careers. In addition to presenting highlights of those careers, the film also showcases how the trio's approach to comedy has evolved over time and adapted to survive whatever the current landscape has been.
Still, the film fails to achieve the narrative it's selling. Consider its pitch:
They were rising stars in San Francisco in the 1980s, working the comedy clubs alongside Robin Williams and Dana Carvey. They dreamed of being rich and famous … but life had other ideas.
This suggests life got in the way of success for these three. This suggests some sort of misfortune that prevented these three from achieving the greatness Williams and Carvey achieved. This likens the trio to athletes who were once on the verge of superstardom, but had their careers derailed by injury or family tragedy, leaving them to wonder, "What If?" None of this is the case, or if it is, the case is poorly made.
Yes, these three comics haven't gotten that "big break" in 30 years. Yes, the film covers their individual flirtations with the next level. And yes, the film looks at how hard they are working today. But there is no sense that anything that happened to them in their careers directly correlates to missed chances or failure, nor does anything suggest that these three are as good as Williams or Carvey, thus worthy of that level of success. A lot of people graduate alongside greatness; that association doesn't automatically make them great as well. The film's pitch wants you to think it does. The film's execution proves it doesn't.
At its best, 3 Still Standing is a fine entry in the greater canon of the history of stand-up comedy. It is also good at getting laughs. But its efforts to garner sympathy for its subjects are unsuccessful and tone-deaf. These are three men who have not only survived working in a difficult industry, they have found success in doing so. Because their success isn't as great as the success of others isn't worthy of the sympathy being requested.
3 Still Standing (Hot Docs Review) Movie review