20,000 Days on Earth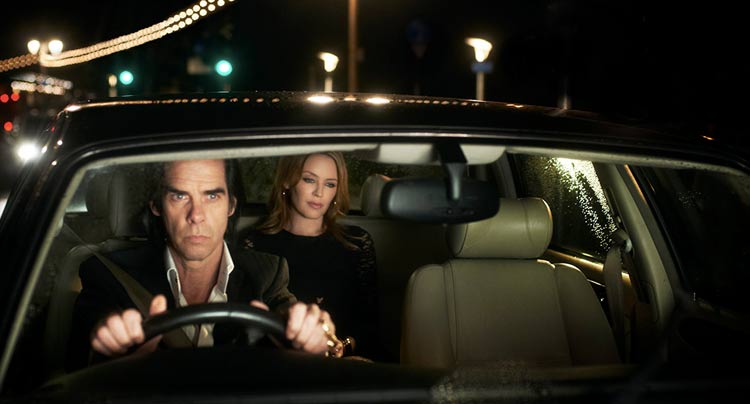 Fictionalized documentary makes for a profusion of self-indulgence.
Nick Cave, a musician, songwriter, author, and sometime actor, whose music seems to polarize listeners into love or hate categories, fictitiously frames his 20,000th day on earth in this choreographed documentary. A day in which Cave allows the world (and let's face it, it's mostly his fans who are interested) into his brain and career. Viewers are allowed in through conversations with his collaborators and band mates, picture slide shows, endless amounts of "inner dialogue", and the most crafted therapy session ever filmed. Cave's articulate Australian/British accent engages viewers as he narrates. And there's no denying the film has a certain beauty, since it's just staged enough to make sure the lighting on everyone is perfect, the bokeh flaring just so. Cave drives around the countryside, drives Kyle Minogue in his back seat, discussing his career, his thoughts, his way of performance. But because everything is so obviously set up and approved by Cave himself, the entire portrayal of him reeks of self-indulgence. 20,000 Days of Earth only qualifies as a documentary because of the performances and historical accounts, but otherwise seems very much like an auto-biopic of a man whose attitude implies he believes he's the first to contemplate the creative process, and indeed the first to explain it.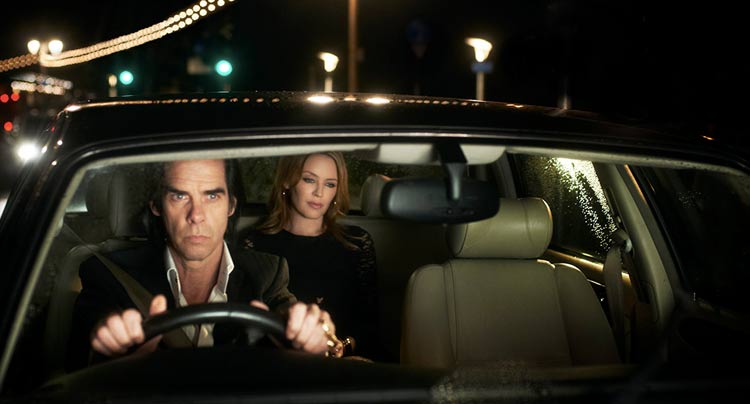 Cave worked closely with directors Iain Forsyth and Jane Pollard on writing the film. It won two jury awards at Sundance, and arguably an appreciation for Nick Cave the artist would influence any viewer's perception of 20,000 Days On Earth, but what really affects ones viewing of this film is entering into it and viewing it as a documentary disguised as a fictional film, or a fictional film disguised as a documentary. I was drawn to the latter view, drawn in by the film's colorful widescreen imagery, and Cave's Shakespearian dictation echoing over the film. But it becomes very apparent, when the insight we're given into Cave's career focuses so much on anecdotal nostalgia, that there is entirely too much navel-gazing for it to be fictional enough to be interesting or real enough for it to be insightful. For instance, a story shared with Warren Ellis, who has been a part of Nick Cave and the Bad Seeds since the mid 90's, remembers a performance with Nina Simone years earlier. It's the sort of conversation that is fascinating, because of the notoriety of the subject and the insight into band life and the performance rituals and behavior of musicians, but is also tinged with the sadness one relates to musicians past their prime, reliving former glory. Other recollections, especially those led by Cave's so-called therapist, seem so hand-picked that it's hard not to feel manipulated by Cave into thinking of him in a certain way.
Scenes where Cave performs or records are more in line with a traditional rockumentary, and are the easiest to swallow. Without the performances it would be easy to forget how Cave became the prominent cultural icon he is. His performance style is unique and just strange enough to intrigue, his scratchy voice so completely mis-matched from his hauntingly beautiful rhythms. Cinematographer Erik Wilson deserves all accolade, framing Cave, and his almost vampiric looks, within beautiful settings and staying tight to Cave's face, his descriptive facial features and eyebrows expressing plenty.
The noir-ish feel of the film will undoubtedly impress some, and Cave's notoriety is certainly a huge part of a viewers interest as well, but anyone expecting the raw uncut Nick Cave will find the opposite — a polished, well-placed, and perfectly poised version of the man. Come for the show, the music, and the visualization, but don't expect to be more interested in Nick Cave at the end of the film then when it began.
20,000 Days on Earth Movie review