Way Too Indiecast 15: Ex Machina, Anime Anxiety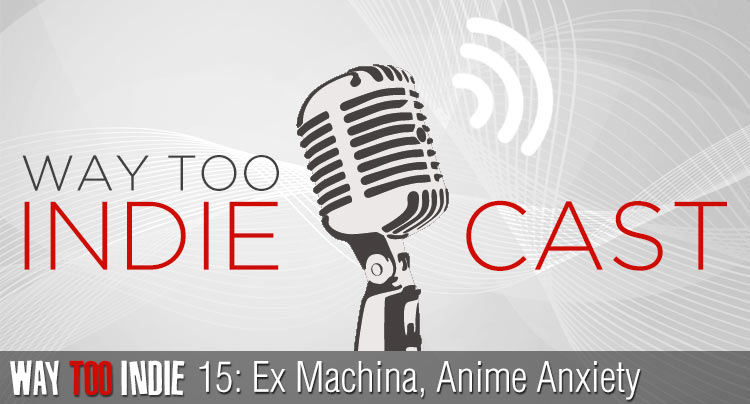 Podcast: Play in new window | Download
"Man fears the darkness, and so he scrapes away at the edges of it with fire."
Bernard faces his demons on this episode of the Way Too Indiecast as he and Ananda discuss the worldwide phenomenon they've somehow managed to stay far, far away from until now: anime. To guide them on their journey through the wonderful world of vampire hunters, giant mechs, and godlike schoolgirls is special guest Ryan Clements, a prominent figure in the video games industry and passionate anime enthusiast. Will Mr. Clements be able to persuade Ananda and Bernard to dive deep into the worlds of Cowboy Bebop and Neon Genesis Evangelion?
Also on this nerd-tastic edition of the show, Ananda and Bernard discuss Alex Garland's stunning sci-fi indie, Ex Machina, which stars Domhnall Gleeson, Oscar Isaac and Alicia Vikander. In the film Gleeson and Isaac play a couple of tech geniuses (nerds) who perform experiments on the world's first true A.I., an adorable robot girl named Ava (Vikander). Could it be the best film of the year so far? Plus, as always, we've got some fresh indie picks for you right at the top of the show. So what are you waiting for? Click play and let the waves of nerdy pleasure wash over you.
Topics
Indie Picks of the Week (5:47)
Exploring Anime (13:50)
Anime For Beginners (34:00)
Ex Machina (49:32)
WTI Articles Referenced in the Podcast
Subscribe to the Way Too Indiecast
and don't forget to leave us a rating and quick review!