Way Too Indiecast STAR WARS Special: 'The Force Awakens' Spoilercast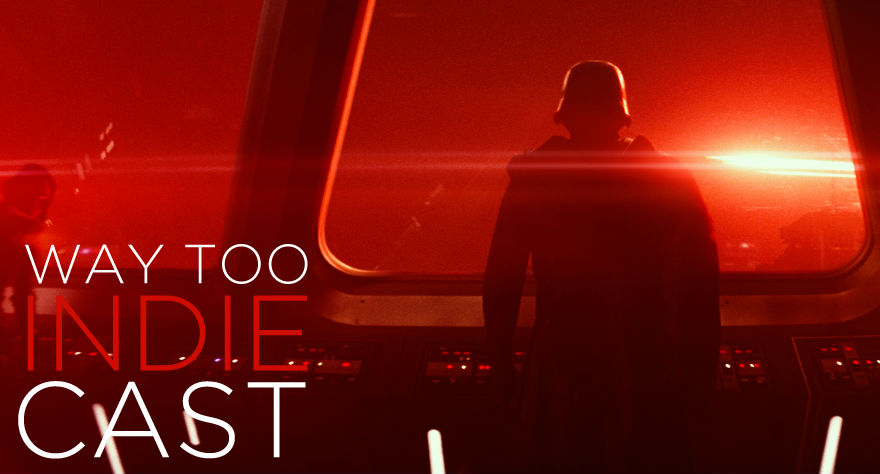 Podcast: Play in new window | Download
In the final installment of our series of Way Too Indiecast Star Wars Specials, Bernard and Dustin are joined by two new companions, WTI's own Ananda Dillon and Star Wars aficionado Justin Boo, to break down piece-by-piece Star Wars: The Force Awakens. Stakes were high going into this JJ Abrams-helmed mega reboot—did the movie meet the crew's expectations? Is this the moment Dustin finally embraces the light side and becomes a Star Wars fanboy, or has he lost hope in the force altogether? Will super fans Bernard, Ananda and Justin have their childhood dreams reawakened or extinguished forever? It's all on the line on this very special, extended, final edition of the series!
Our Heroes:
Bernard "Boo-Boo Fett" Boo – Jedi Academy class clown. Lifelong Star Wars fan, loves all three movies in the original trilogy and hopes to find BB-8 in his stocking this Christmas.
Dustin "D-3PO" Jansick – Padawan. Never watched the original trilogy (may have seen A New Hope, but memory's foggy) and has virtually zero familiarity with the universe. A rare breed in this day and age.
Ananda "General Ackbar" Dillon – Rebel Leader. Huge Star Wars buff and general pop culture fanatic. Has been awaiting The Force Awakens with bated breath.
Justin "BooBoo-8" Boo – Jedi Master. Mentor to "Boo-Boo Fett." Lifelong Star Wars obsessive. Seen all of the movies countless times. Has boxes and boxes of Star Wars action figures.
Subscribe to the Way Too Indiecast