WonderCon 2016: AMC's 'Preacher' Is the Comic Book Adaptation We Deserve
At a certain point during the WonderCon screening of AMC's new show Preacher, based on the dark and brazen comic series of the late '90s, I wondered fleetingly if what I was seeing was even allowed on television. Then I remembered AMC has basically rewritten the "rules" of television since Breaking Bad, The Walking Dead and Mad Men. The network that has pushed how ambitious and movie-like television can be, pushes that scope even wider with its most comic-like comic adaptation yet, and indeed perhaps done anywhere.
Whereas The Walking Dead is a gritty adaptation of a comic based in real-life scenarios and post-apocalyptic relationship dynamics, Preacher is your definitive supernatural and even horror-ish comic series. And not only does the show not tame down any of it, the show's creators—Garth Ennis, creator of the original comic, with Evan Goldberg, Seth Rogen and Sam Catlin producing and writing as well—have figured out how to create a screening experience that feels similar to the pacing, reveals, and character details one gets when flipping through the panels of a comic.
Dominic Cooper is Jesse Custer, a man with a dark past (of which a few black and white flashbacks only really hint at) who returns to his hometown of Annville, Texas to be the local preacher. Of course, he's not actually any good at it, and there's the small matter of him not being entirely sure there is a God. Joining him by way of passing airplane is Cassidy (Joseph Gilgun, who's role in the British show Misfits immediately gives him my personal approval) an Irish vagabond with fighting skills and an unnatural ability to regenerate by drinking blood. But it's by far Tulip O'Hare (Ruth Negga, also a Misfits alum!), Jesse's ex-girlfriend, who makes the most impressive entrance: wrestling with a bad guy in a moving car through a corn field and then putting together a homemade bazooka with a couple of farm kids to take down more bad guys.
Fans of the comic will be glad that another familiar face from the series is introduced in the pilot. Though, to be honest, you don't forget a face like his. Eugene, aka Arseface, is a teen in Annville who sports a particularly freakish mouth after a botched suicide attempt. His introduction is just one of many darkly comedic moments in the series.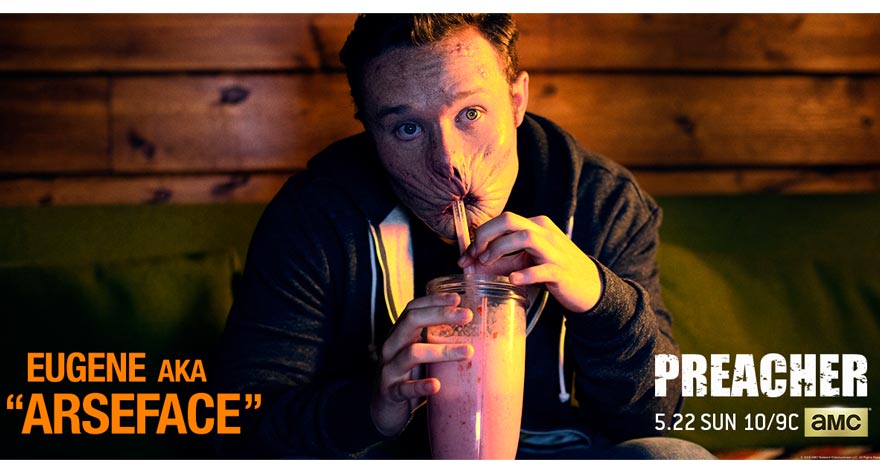 And in fact, what makes Preacher most work is that dark comedy. It's subtle in parts, like a news channel playing in the background of a scene announcing Tom Cruise has exploded (all part of the supernatural plot of Preacher), and blatant in other ways like a slow motion zoom in on Jesse's face as he gets an obvious sense of pleasure kicking the shit out of a dude who deserves it.
In the WonderCon panel, producer and writer Sam Catlin mentioned that they were determined not to create "AMC's Preacher" or "Preacher the TV Series" but just plain "Preacher," which would suggest we're sure to see even more of the incredibly dark elements that make up this series. But credit is most certainly due to AMC, whose freedom-giving to its showrunners has yielded some pioneering results. Those of us feeling the sting of The Walking Dead's season coming to a close soon can find solace in knowing our thirst for blood—and some needed comedic relief after a dramatic season—will be quenched come May.
Preacher premieres May 22 on AMC. Follow Way Too Indie for further coverage.