Post-Weekend News Roundup – April 27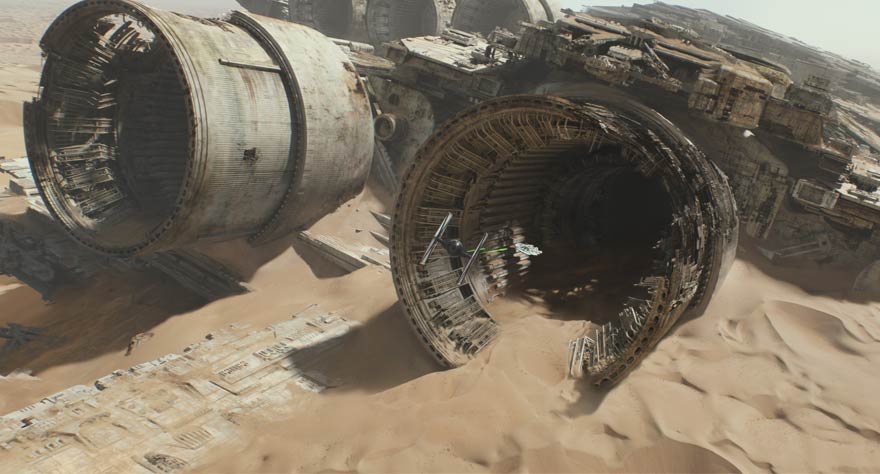 As we ramp up to the summer movie season, the newswire this week was dominated by upcoming Star Wars and superhero films. First, last weekend's Star Wars Celebration brought us a new trailer for The Force Awakens and the next cutest robot ever. Later in the week, we heard that Nightcrawler's Riz Ahmed was in talks to play a leading role in the first Star Wars anthology film Rogue One. For the other big Disney property coming out this year, apparently some German theaters are boycotting The Avengers: Age of Ultron due to the studio's asking for too much money per ticket sale. But that might not be as bad as the predicament Warner Bros. founds itself in when its trailer for Batman v Superman: Dawn of Justice leaked just days prior to a scheduled IMAX trailer release event, forcing the studio to officially release the trailer sooner than they planned. Oh, and then there's the mostly negative response that trailer received online. We also got that Jared Leto Joker image shocking into our brains, never to be forgotten. With all this circling, how you honestly keep up with anything else? Check out other news you may have missed last week below!
Phil Lord and Christopher Miller Set to Make a Spider-Man Animated Movie
OK, so we're not completely done with superhero film news, but this bit is a little more enticing. Phil Lord and Christopher Miller have made a fine career out of adapting uninspired properties into intelligent and fun films – maybe they are the perfect filmmakers to get Sony out of their Spider-Man rut. Announced at Sony's presentation at CinemaCon, the duo are set to direct an animated version of everyone's favorite web-slinger to be released in 2018. This, of course, isn't the first time Spider-Man has been animated, with multiple popular television series. If Sony has to release a film of their own while also handing off the character on loan to Marvel Studios, an animated film is probably the only way to differentiate it. And hiring Lord & Miller attached to write and direct the film is probably the only way to make it not feel like a total cash grab.
Ang Lee's Next Film to be Shot at 120 Frames Per Second
Also announced at Sony's CinemaCon presentation, Ang Lee is currently working with Sony to shoot his next film with a revolutionary new camera that can capture 120 images per second. According to the Hollywood Reporter, Billy Lynn's Long Halftime Walk will also be shot in the suddenly blasé 3D with 4k projection. A few years back, Peter Jackson's first film in The Hobbit series was projected at 48 fps, paving the way for the next trend to keep us going to the movies, but this is a bold step up from that. Many of the technical details are still unclear, but it will definitely be interesting to learn more and see the results.
Virgin Mountain and Bridgend Biggest Winners at Tribeca
The 2015 Tribeca Film Festival is in the books, with Dagur Kári's Virgin Mountain and Jeppe Rønde's Bridgend sweeping the World Narrative Competition awards. Virgin Mountain took home Best Narrative Feature, Best Actor and Best Screenplay, graciously leaving Best Actress, Cinematography and Editing for Bridgend. Camilla Nielsson's look at the the adoption of a new constitution in Zimbabwe, Democrats, won Best Documentary Feature. We saw Bridgend, but were pretty mixed on the film. You can find the complete list of competition award winners at Indiewire. While you're at it, check out all of our Tribeca 2015 coverage here!
Gaspar Noé upcoming NSFW film Love
A few days after the competition and Directors' Fortnight schedules for the 2015 Cannes Film Festival were released, a stimulating addition has been made. According to the Dissolve, film provocateur Gaspar Noé will be showing off his newest film, Love, at the festival. Though we know Love is a three-hour 3D porno, it is supposedly more joyous and lighthearted than Noé's previous films Irreversible and Enter the Void. With Lars von Trier still banned from Cannes, his spot for controversy has been up-for-grabs, so perhaps it will be filled by the Argentinian auteur.
Trailer of the Week: Nightingale
After David Oyelowo's disappointing snub at this year's Oscars, I was very interested in seeing where his career would go. Oyelowo has long been putting in great performances in small roles in films like The Paperboy and A Most Violent Year, but could he sustain being a leading man? Well, by the looks of Nightingale, where he seems to be the only on-screen character, he's doubling down. The film debuted at the 2014 Los Angeles Film Festival, but will now get a broad release thanks to HBO Films, when it will show on the cable channel on Friday, May 29. Check out a tease of Oyelowo's powerful solo performance in the trailer below!