WATCH: 'The Hateful Eight' Have Arrived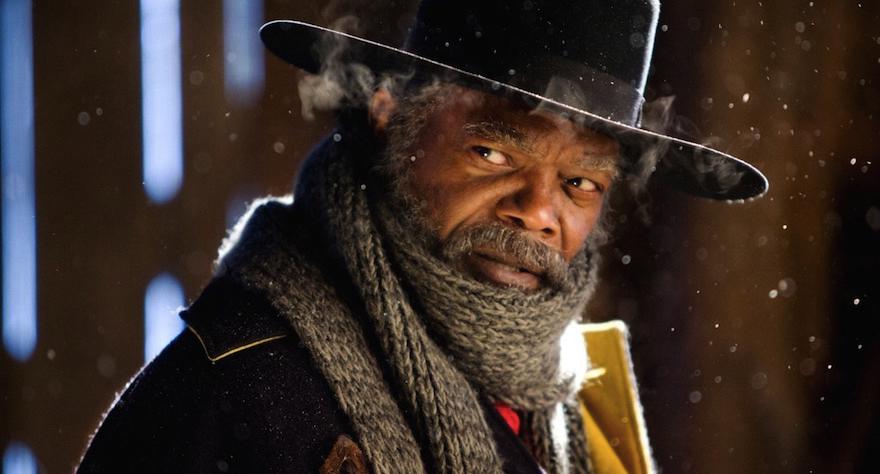 Quentin Tarantino's long-awaited 8th film The Hateful Eight is set for release this Christmas, but the first real glimpse at footage has just arrived in the form its new trailer. The Hateful Eight collects an impressive ensemble of actors including Taratino's returning favorites (Samuel L. Jackson, Kurt Russell, Walton Goggins, Tim Roth, Michael Madsen, and Bruce Dern) along with a couple of new faces (Jennifer Jason Leigh, Demian Bichir, a perhaps-under-wraps cameo from a Foxcatcher star) for this tale of betrayal "six or eight or twelve years after the Civil War." Filmed in gorgeous 70mm against the snowy mountainscapes of Colorado (in place of Wyoming, where the story is set), this trailer reveals the central cast of characters in all their fur coat, brimmed hat, twanged accent glory.
The Hateful Eight centers on a stagecoach lead by bounty hunter John "The Hangman" Ruth (Russell) as he drives toward the town of Red Rock, where his passenger Daisy Domergue (Leigh) is set to hang. On the road, the two come across Major Marquis Warren (Jackson), a former union soldier who has taken up bounty hunting himself, as well as Chris Mannix (Goggins), a Southern renegade that claims to be the town's new Sheriff. Attempting to escape an intensifying blizzard, the four duck into Minnie's Haberdashery to discover four unfamiliar faces in Bob (Bichir), Oswaldo Mobray (Roth), Joe Gage (Madsen), and Confederate General Sanford Smithers (Dern). The travelers attempt to outlast the storm as well as each other, and make it to Red Rock alive.
Let us know in the comments what you think of the latest trailer for The HateFul Eight