WATCH: New Trailer For Quentin Tarantino's 'Hateful Eight' Drops Amid Controversy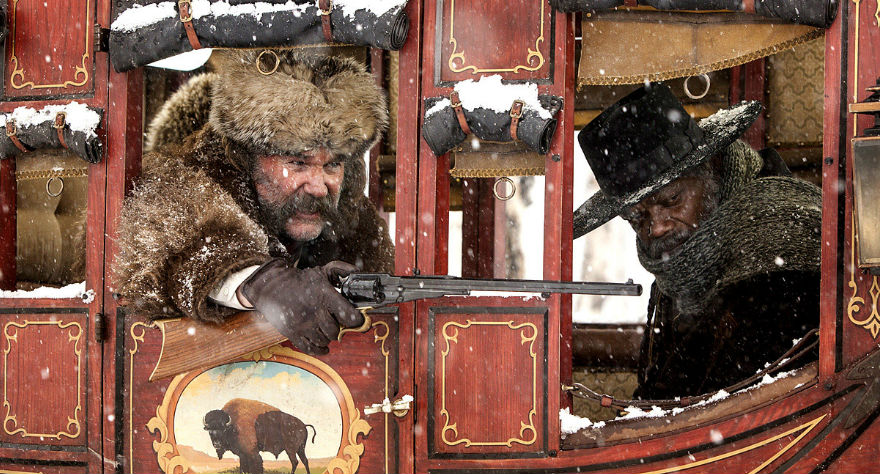 Quentin Tarantino's really got his hands full, huh?
Following the director's recent comments regarding police brutality—"I'm on the side of the murdered," he said at a New York City rally on Oct. 24th—police unions across the country, including the Border Patrol and the Fraternal Order of Police, have called for a boycott of all Tarantino films, including his upcoming snowy western The Hateful Eight.
Tarantino's been defending his stance on the issue, claiming he's "not a cop hater." The murder of a New York police officer, Randolph Holder, just a week before his appearance at the controversial protest, didn't help quell the fiery national debate that quickly erupted around the director's comments.
Fighting tooth and nail for his right to speak publicly against police brutality is surely the last thing the widely beloved director was planning to do in the final weeks leading up to his eighth feature film, but a shiny nugget of good news has arrived today in the form of a new, awesome trailer for The Hateful Eight.
The movie's had a rough road—if you remember, it almost didn't get made at all when the script was leaked to the public by one of star Bruce Dern's people (that bastard!). Tarantino scrapped the project in a fit of rage, but thankfully for us he changed his tune. Perhaps most members of law enforcement won't be coming out to watch the film in "glorious 70mm" this Christmas like the rest of us, but maybe the latest trailer will compel some of them to show up in disguise.
The Hateful Eight stars Samuel L. Jackson, Kurt Russell, Bruce Dern, Jennifer Jason Leigh, Walton Goggins, Demian Bichir, Tim Roth and Michael Madsen. Here's the official synopsis:
Set six or eight or twelve years after the Civil War, a stagecoach hurtles through the wintry Wyoming landscape. The passengers, bounty hunter John Ruth (Kurt Russell) and his fugitive Daisy Domergue (Jennifer Jason Leigh), race towards the town of Red Rock where Ruth, known in these parts as "The Hangman," will bring Domergue to justice. Along the road, they encounter two strangers: Major Marquis Warren (Samuel L. Jackson), a black former union soldier turned infamous bounty hunter, and Chris Mannix (Walton Goggins), a southern renegade who claims to be the town's new Sheriff. Losing their lead on the blizzard, Ruth, Domergue, Warren and Mannix seek refuge at Minnie's Haberdashery, a stagecoach stopover on a mountain pass. When they arrive at Minnie's, they are greeted not by the proprietor but by four unfamiliar faces: Bob (Demian Bichir), who's taking care of Minnie's while she's visiting her mother, is holed up with Oswaldo Mobray (Tim Roth), the hangman of Red Rock, cow-puncher Joe Gage (Michael Madsen), and Confederate General Sanford Smithers (Bruce Dern). As the storm overtakes the mountainside stopover, our eight travelers come to learn they may not make it to Red Rock after all…
The Hateful Eight drops on Christmas Day, but only in the 70mm format. It releases wide on January 8th on all formats.