Watch: Adam Sandler and Kevin James Battle Pac-Man in 'Pixels' Trailer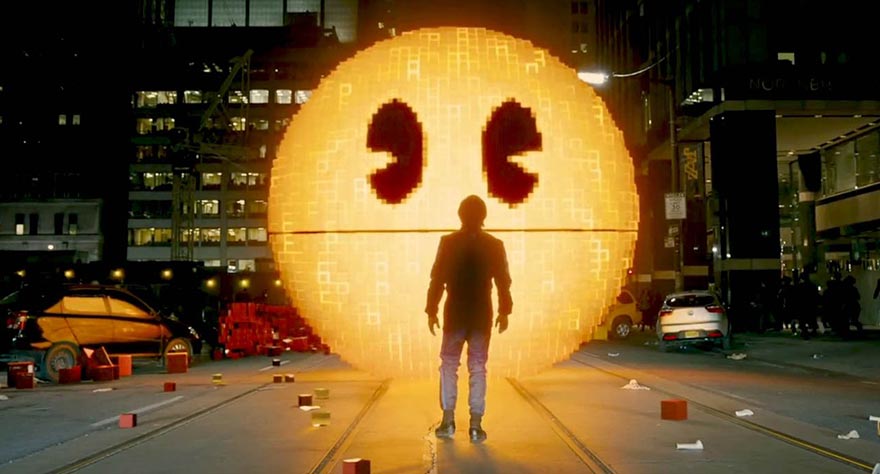 The buzz around what could potentially be the first good Adam Sandler film in a while (sorry The Cobbler, but no) has finally culminated in a first trailer for Pixels.
In 1982 the world sends out a capsule to the universe as a peaceful token of our openness to communication. With clips of President Reagan and Rubik's Cubes and…Pac-Man and Donkey Kong. Only the aliens take it the wrong way. They interpret the pixellated muncher and the patience-challenged gorilla as a threat to their existence so they build weapons to match. When they begin attacking the planet Earth, U.S. President Will Cooper, played by Kevin James, and his First Lady, played by Jane Krakowski, know to look for one man: his childhood best friend and '80s video game champion Sam Brenner (Adam Sandler). Along with a team of old school gamers including Peter Dinklage and Josh Gad they will have to figure out how to beat the ultimate arcade challenge. And the stakes are high.
Directed by Chris Columbus, the screenplay was written by Timothy Dowling whose past credits include Role Models and Just Go With It.
Rounding out the cast is Sean Bean, Michelle Monaghan, and Pretty Little Liar's Ashley Benson.
Pixels is the eighth time Adam Sandler and Kevin James are partnering up in a comedy. The release date is set for July 24th, 2015.