Watch: Leviathan Trailer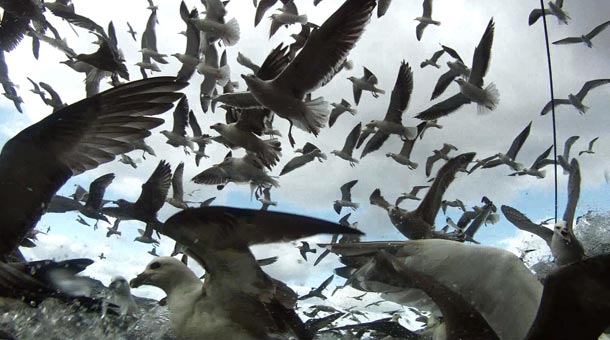 Leviathan is a new film by directors Véréna Paravel and Lucien Castaing-Taylor. Paravel was the co-director on the 2010 documentary Foreign Parts while Castaing-Taylor co-directed the well-received 2009 documentary Sweetgrass. The first trailer for Leviathan has come online and, for what looks like a 4 minute excerpt from the film, it's already one of the best trailers this year. Here's a synopsis for Leviathan from the film's official website:
"In the very waters where melville's pequod gave chase to moby dick, leviathan captures the collaborative clash of man, nature, and machine. shot on a dozen cameras — tossed and tethered, passed from fisherman to filmmaker — it is a cosmic portrait of one of mankind's oldest endeavors."
The trailer feels like its own short film as a camera films dead fish being dumped into the ocean from the side of a ship. Eventually the camera itself plunges into the water and bobs around as hundreds of birds come to eat the floating scraps of waste. It's a unique, disorienting experience that's memorable on its own. If the rest of Leviathan impresses as much as this trailer, we should hopefully be in for something special.
Leviathan premieres in August at the Locarno Film Festival, and you can read more information about the film at www.leviathanfilm.org
Watch the trailer for Leviathan: