TIFF 2015: The Promised Land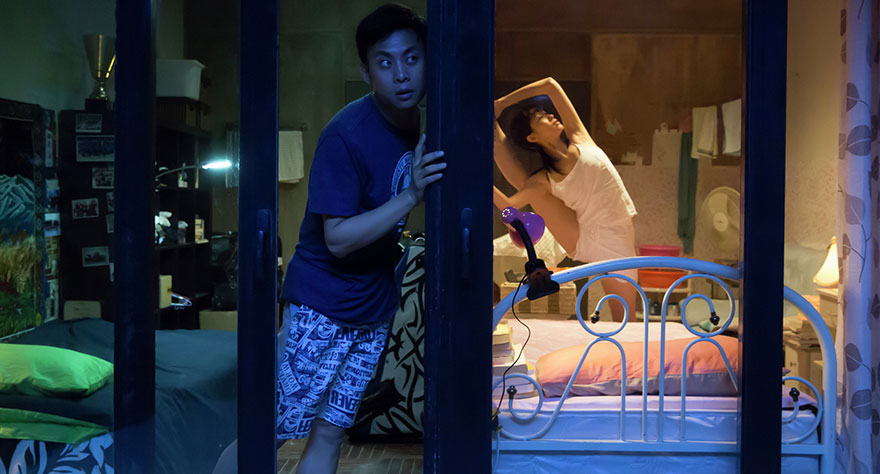 An attempt to be both a cute love story and a commentary on contemporary youth in China, He Ping's The Promised Land benefits from an experimental approach, but doesn't really cohere into more than a stylish relationship dramedy. The film opens with Ai Ling (Wang Jiajia) returning to her small hometown after living in Beijing trying to make it as a ballet dancer. Her father (Wang Zhiwen) asks Ai where her boyfriend Jiang He (Zhang Yi) is, and despite her behaviour suggesting they're no longer together, she insists he's just back in Beijing. The film soon begins cutting back and forth through time, showing Ai Ling and Jiang He's relationship from the beginning in Beijing, while in the present day Ai tries to open a dance studio in her hometown.
He Ping didn't use a script while filming The Promised Land, letting his actors improvise all their dialogue. The approach leads to plenty of funny, naturalistic scenes between Ai Ling and Jiang He that help build their chemistry and relationship with ease, and makes The Promised Land move at a quick pace. And without a script, He invests a lot into the film's visuals. The director of photography, Shao Dan, uses long takes, canted angles and gorgeous long shots of Ai Ling's village to make the film easy on the eyes. But the film's goodwill soon dissipates as time goes on, with the framing device and mystery over Jiang He's whereabouts feeling more like an annoying afterthought. It won't be hard to guess what happens, but He's reveal is so abrupt and hurried (it's shoved in the last five or so minutes) it dulls any emotional impact the resolution might have had. That leaves The Promised Land feeling like it's spinning its wheels for most of the middle section, relying on the chemistry between its two leads as a distraction from the threadbare and predictable storyline. At least The Promised Land's charm helps it get by, but it feels like with some tighter control there could have been a much better film.