TIFF 2015: The Here After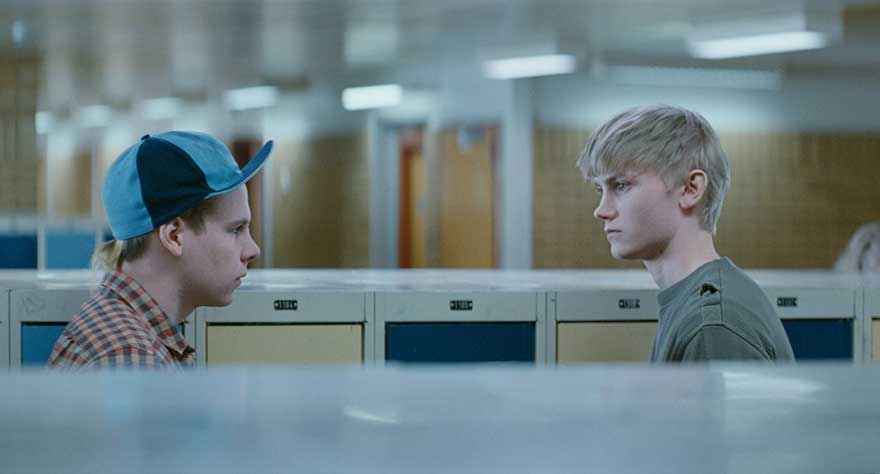 There's something remarkable about the fact that Magnus von Horn's The Here After can contain so many European arthouse clichés yet still work effectively for the most part. The film opens with John (Swedish pop star Ulrik Munther) getting out of prison after serving a sentence for a crime the film keeps hidden until later, but needless to say it's something bad. His father (Mats Blomgren) and little brother (Alexander Nordgren) try to adjust to John's return, but things soon go out the window once he returns to school. John's family may be willing to move on, but their small, rural community is still raw over what happened.
Director of photography Łukasz Żal (Oscar-nominated for his work on Ida) shoots The Here After on 35mm Cinemascope, taking advantage of the open landscapes in the film's countryside setting to give the film a nice look. But all of it feels so familiar: the gradual reveal of John's crime, the chilly remove with its insistence on long shots, the penchant for sudden, brutal violence to spill out in the span of a single scene, and the list goes on. At times, The Here After can feel like it's lifted from an Arthouse 101 textbook, yet there's an undeniable power to Von Horn's film. Munther impresses as the mostly silent John, subtly showing off how his guilt consumes him as the harassment escalates, and Blomgren makes just as much of an impression as his conflicted father. Von Horn falls into a lot of trappings that make his debut more like a collection of influences than the arrival of a distinct voice in arthouse cinema, but at least he's lifting things from the right people.