TIFF 2015: One Floor Below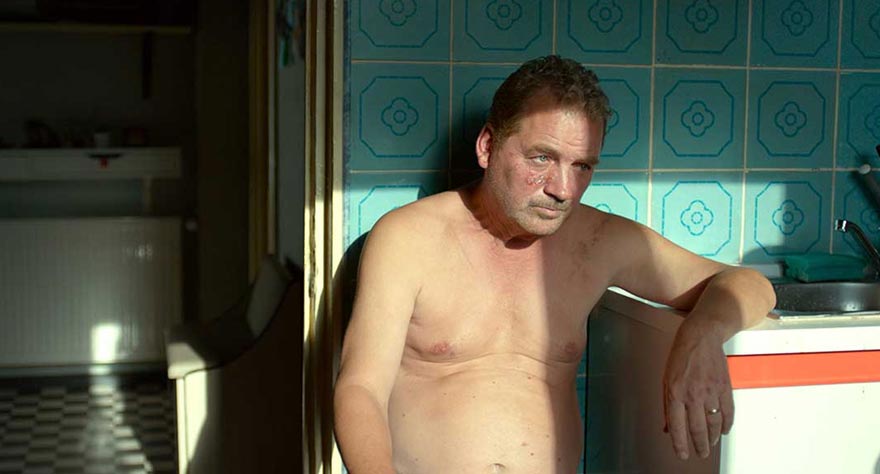 When One Floor Below premiered earlier this year at Cannes, the general reaction seemed to be bafflement. For some reason Radu Muntean's follow-up to Tuesday After Christmas confounded people with its simple and intriguing story. Watching it now, while still in the context of a rushed festival like TIFF, it's easy to assume that Cannes audiences might have been surprised at how straightforward this film really is. Family man and business owner Sandu (Teodor Corban), who helps people navigate the bureaucracy of car registrations in Romania, overhears an argument coming from the apartment of his young, single neighbour Laura (Maria Popistasu). He listens in, only to be caught when the door opens and he sees Vali (Iulian Postelnicu), a married neighbour from a different apartment downstairs. Sandu, embarrassed at being caught eavesdropping, goes on his merry way, but later finds out that Laura was murdered. Yet when the cops come to question everyone in the apartment, Sandu refuses to say a word about the argument he overheard. And soon enough Vali starts involving himself more and more with Sandu's family.
Muntean shows remarkable control here, letting his scenes play out through long, well-composed takes that are all about what's not being said. The murder at the centre of the film isn't the real mystery; instead it's why Sandu won't speak up, and why Vali seems so keen to get himself closer to Sandu. Muntean lets his film unfold at a deliberate pace, letting Vali slowly insert himself into Sandu's personal space as time goes on (first outside by his car, then chatting up his family members in the stairwell and eventually winding up hanging out with his son in his apartment). This makes One Floor Below unfold at a slow, steady boil, with Corban providing a strong, understated performance as his character has to deal with the consequences of his inaction. There's a plainness to One Floor Below that's refreshing. Muntean simply presents a situation, keeps the motivations and psychology under the surface, and lets the viewer make their own conclusions. It gives the film a richness, one that invites plenty of discussion and repeat viewings.