TIFF 2015: Men & Chicken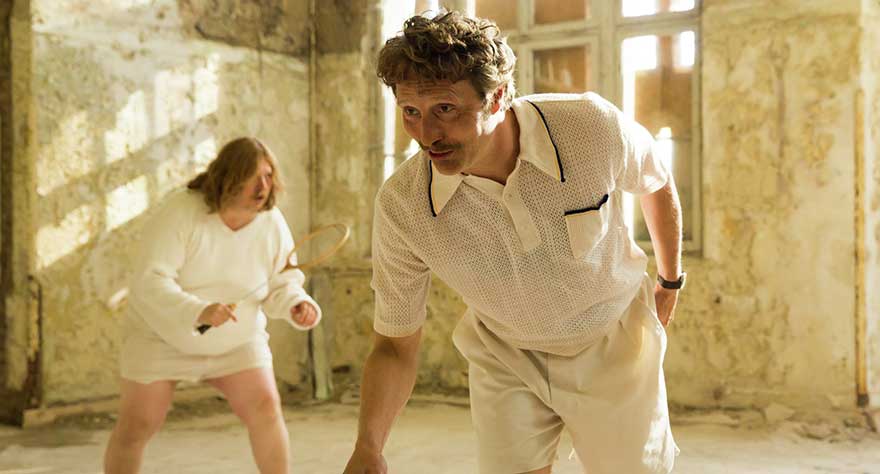 Leave it to the Danes to take what looks like a big ole quirk-fest and turn it into something much more disturbing. At the start, Anders Thomas Jensen's film has all the makings for a light, quirky comedy about brotherhood. Brothers Gabriel (David Dencik) and Elias (Mads Mikkelsen) have a strained relationship but have to reunite once their father dies. Upon his death, the two watch a video left to them where their father reveals they were adopted and only half-brothers, sharing the same father but not the same mother (both mothers died during childbirth). With only the name of their biological father to go by, Gabriel eventually finds out that he lives on a tiny island with a population of just over 40 people. Gabriel and Elias head off and discover a series of dark, twisted and morbidly funny revelations about their family's past.
The film's introduction to its two main characters, with Gabriel missing his father's death due to a gag reflex and Elias taking a break during a date to jerk off in a public washroom, implies that Men & Chicken will play out as a bland and juvenile comedy of eccentricities. Thankfully Jensen doesn't go down a predictable route, instead changing the film's location to the secluded island and making things get a lot weirder with the introduction of three other half-brothers (Nicolas Bro, Nikolaj Lie Kaas and Soren Malling) that have basically been raised as animals. Quirks and peculiarities soon give way to slapstick hijinks once the five siblings begin operating on the same abnormal wavelength, and Jensen introduces more sadistic pieces of information until, by the end, Men & Chicken is like a Cronenberg film crossed with your average Sundance family drama. Jensen and his game cast (especially Mikkelsen, who's hard to recognize at points) make it work too, and turn Men & Chicken into a film that's just as strange as it is entertaining.