TIFF 2015: Cemetery of Splendour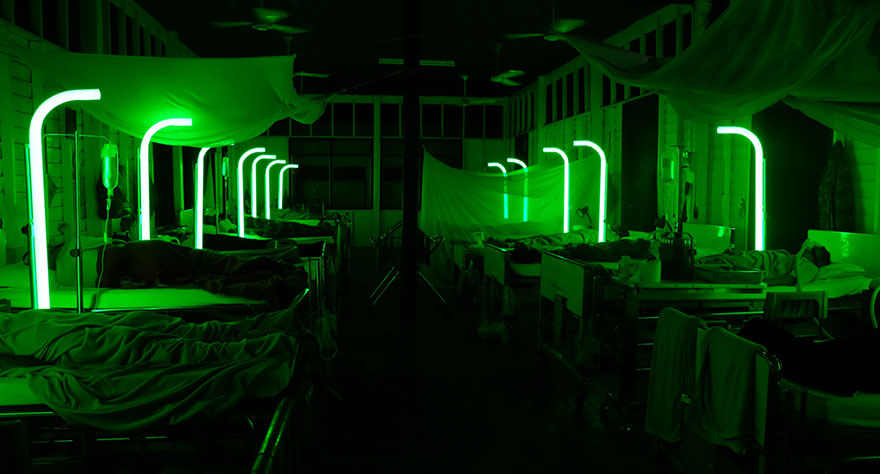 Finally making his return after winning the Palme D'Or five years ago with Uncle Boonmee Who Can Recall His Past Lives, Apichatpong Weerasethakul delivers yet another beguiling and utterly singular film with Cemetery of Splendour. Taking place at a former school that turned into a hospital for soldiers suffering from a strange sleeping sickness, local woman Jenjira (Jenjira Pongpas Widner) decides to volunteer, looking after the soldier Itt (Banlop Lomnoi) as he sleeps in a comatose-like state. The soldiers eventually wake up randomly for brief periods of time before suddenly passing out again, and through his brief moments of consciousness Jenjira and Itt develop a strong friendship.
As with most of Weerasethakul's work, the story takes a backseat. The director has described his film as either a dream about being awake or a reality that can feel like a dream, and Cemetery of Splendour's largest achievement is how well it weaves reality, fantasy, dreams, spirituality and the supernatural together. All of these things—usually seen as separate entities—flow together through Weerasethakul's vision: two beautiful women can suddenly become the spirits of princesses, a school can turn into the battlefield of a great war between ancient kings, and a park can become a great kingdom overseeing plenty of rich, fertile lands. There's a boundless imagination to the film, and through its hypnotic visuals (a sequence with a group of lights can easily function as its own brilliant installation piece) it's easy to get swept up by its beauty. Fans of Weerasethakul's work should find themselves pleased with yet another terrific film from the director, and those unfamiliar might not find a better entry point than this. By this point, there shouldn't be a reason not to check out Weerasethakul's work. He's one of the best directors working today, and Cemetery of Splendour is another excellent addition to his filmography.