TIFF 2014: Hill of Freedom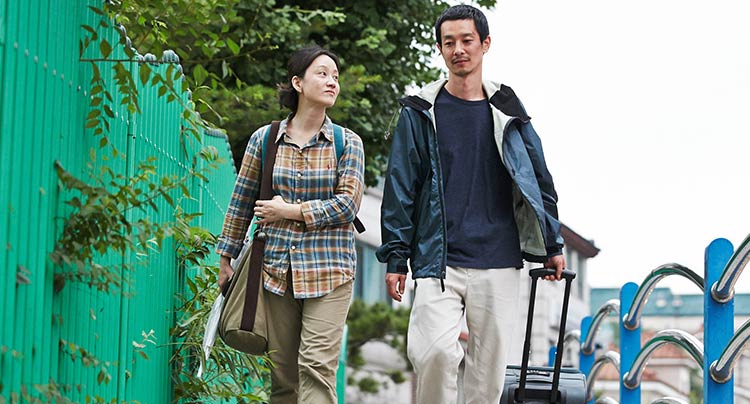 Hong Sang-soo has made yet another film (his 16th one, to be exact), and for those aware of the filmmaker it should come as no surprise Hill of Freedom shares similar qualities to his other works. Hong's films, usually dealing with a director, some sort of romance, miscommunications, a lot of drinking and some sort of structural trickery, have gotten a bit of a following over the years, and it's easy to see why: they're breezy and resonant at the same time, dealing with deep themes while never feeling weighed down for a second. Hill of Freedom is yet another strong entry in the director's consistent output.
Mori (Ryo Kase) is a Japanese man still enamored with his former Korean workmate Kwon (Seo Young-Hwa), and 2 years after a failed proposal Mori flies back to Seoul to find her again. The film structures itself around a series of letters Mori sent to Kwon describing his quest to find her, and as Kwon begins reading the first letter she drops all of them. Without any dates or markers on Mori's writing, Kwon has no idea of the letter's original order, and neither does the film; flashbacks to Kwon's trip are shown out of order, leaving viewers to figure out where each segment of Mori's trip fits within the narrative.
Hong just knows how to create fun, likable characters that appear truly human, and even with almost every line delivered in broken English (Mori doesn't speak Korean) he still makes the different character interactions enjoyable to watch. Mori begins making new friends during his stay, even starting an affair with a waitress (Moon So-Ri) at a cafe he frequents, and Hong creates plenty of entertainment out of watching Mori discuss topics like time, love, and happiness with the supporting cast. It's also consistently funny, the highlight being a subplot involving another house guest having an issue with her temper. At 66 minutes in length, Hill of Freedom is a perfect entry point for people new to Hong Sang-soo's unique, charming style.