Our Thoughts & Favorite Films From South Dakota Film Festival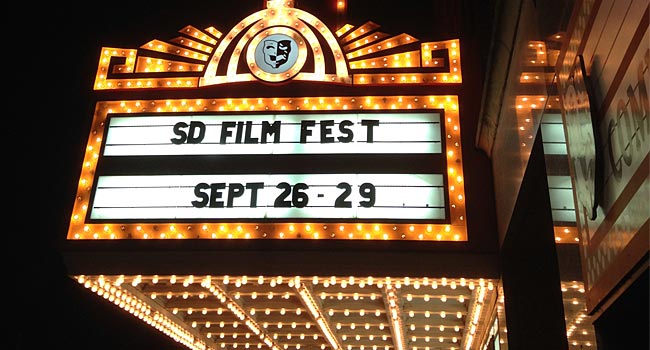 A few weeks ago I had started some serious contemplation on the South Dakota Film Festival. I've really only been to one film festival in my lifetime, but it was a big one, the Toronto International Film Festival. For me personally, TIFF is the granddaddy of film festivals (yes, I know there is a festival in the south of France called Cannes and yes, I know it's massive). But TIFF is in my heart and I consider it a high benchmark for other festivals to follow, so I knew I had to keep my expectations in check.
I knew it wouldn't be fair to compare the SDFF to TIFF. So I'll be honest, I wasn't expecting to see the same quality of films here. The Monday before the festival I told myself I had to do more research on the films to know which I was going to be looking forward to. Hell, I even convinced myself that I owed it to the filmmakers that I needed to do the research. But I actually think it would've been a disservice to have "favorites" going into the festival. So I decided not to revisit any of the films I would be seeing. And I don't think my festival experience couldn't have been any better. I was pleasantly surprised and unquestionably satisfied.
By not knowing anything about the films, I was able to sit back and put myself in the moment of each film. Truth be told, I had a blast even if I didn't enjoy every single movie. But I would say I easily enjoyed 90% of the films I saw. That speaks volumes to a) the talented filmmakers on hand and b) the quality of the eye that the programmers of the SDFF have.
If there's one thing the SDFF has taught me—or rather, reminded me—it's that sometimes doesn't matter how big the festival is, it's the atmosphere of the theater itself. Every single person at the Capitol Theater this past weekend was there for a sole purpose, to appreciate the art of film. There were no other agendas brought to the table. It was simply a celebration of film.
The producers of the festival need to be commended. They put on a very warm and welcoming festival. I remember when Dustin and I were walking into the theater the for the first time and we weren't sure what to expect, but immediately we were treated like two long lost family members that hadn't been seen in years. Looking around over the weekend, it was pretty obvious that every single person attending was being treated the same way.
Sure the festival is tucked away in upstate South Dakota makign it a little out of the way from some areas, but if you're in the region or if you just happen to be passing through, you will be hard pressed to find a better outlet for film lovers.
Our Top 15 films from SDFF
#1 –

Gefallen
#2 –

Noah
#3 –

Ride with Larry
#4 –

Sweet Crude Man Camp
#5 –

Mirror
#6 –

A Hard Day
#7 –

Bring Me A Dream
#8 –

The Garage
#9 –

Dust of War
#10 –

Family Meeting
#11 –

Looking Past You
#12 –

Storytime
#13 –

After the Torment
#14 –

Episode 5
#15 –

Head Case

Note: We did not see films that played on Thursday or Friday