NYFF 2015: The Treasure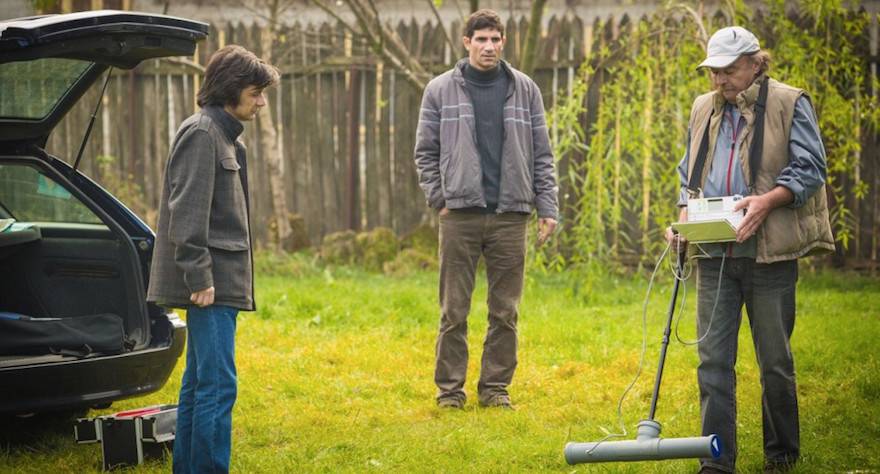 Not every spectacular promise reaps the richest rewards. In Romanian filmmaker's Corneliu Porumboiu's bone-dry comedy The Treasure, the mild-mannered Costi (Toma Cuzin) can't resist the allure of hidden treasure after a neighbor claims that there's a fortune buried in his grandparents' garden. Lacking the money to fund an excursion by himself, the neighbor—Adrian (Adrian Purcarescu)—enlists Costi to hire a professional metal detector and drive to the countryside in search of lost riches with the agreement of splitting their findings. This is hardly as glamorous or scintillating as it might seem, the opposite of the valiant Robin Hood fables Costi tells his son at night. Porumboiu's version of treasure hunting avoids grandeur in favor of a lot of talking, and the tranquility of an older man gingerly pacing across lawns with his run-down metal detector.
Reaching the titular treasure involves tedium and process. As Costi, Adrian, and Cornel (Corneliu Cozmel)—the man with the detector—watch hours tick away while making vague progress, rifts begin to occur between them. Unsure of how deep to dig their holes as well as whether they'll ever find anything, the group's politeness starts to fade. The Treasure keeps the both characters and the viewer waiting patiently. Porumboiu adopts a stillness that treats each new development like a surprise. Any moment could lead to a discovery, but it could also lead nowhere.
Puncturing the tension with the metal detector's alien bloops or a well-timed pithy comment, The Treasure wavers between amusing and listless. The wry interplay becomes the focus above its stripped down plot. Most of the fun is in observing how Costi and Adrian handle the changing circumstances. Costi and Adrian get so wrapped up in the possibility of untold fortunes that anything less would ultimately feel like a let down. The experience of watching The Treasure follows suit, delivering an unremarkable but still enjoyable expedition.