EUFF 2015: The Sinking of Sozopol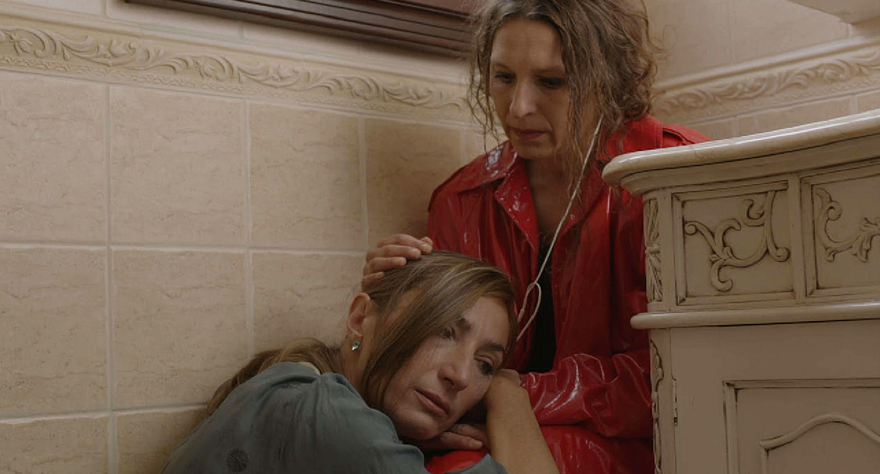 In The Sinking of Sozopol, a middle-aged man returns to his childhood home with ten full bottles of vodka and a determination to empty each one. In his younger years, the formerly vibrant coastal town was the site of many poignant events, the bad seemingly outnumbering the good. Upon revisiting, the man's emotional pilgrimage of sorts yields a plethora of tenderly recalled memories and the image of an ancient hamlet that is now cold and empty.
A torrential rain falls without pause, the waves hungrily lapping at the rocks as the waters rise; a collection of dogs without masters mournfully skulk about, their eyes on the sea and the depressed man who might be causing this steady engulfment. Before half the bottles are gone, familiar faces begin to arrive in Sozopol, all of them sent by a mysterious woman, and all of them curious about just what their friend expects to happen when the last drop of vodka is gone.
Director Kostadin Bonev tells this somber tale through an alternating structure of flashbacks and modern day conversations that unexpectedly dip into the metaphysical on occasion. Quasi-dreams and a couple of surreal moments are sprinkled throughout, and the use of editing to intermingle past and present furthers the somewhat playful approach.
But ultimately this is a largely straight-faced portrait of conflicted self-destruction, and the capacity that friendship and community have to help quell the inevitable storms of a troubled mind. It's slightly monotonous in places and not as stirring in its thematic impetus as the premise promises, but the thoughtful script and frequently beautiful compositions pull it through.