The Night Manager (Berlin Review)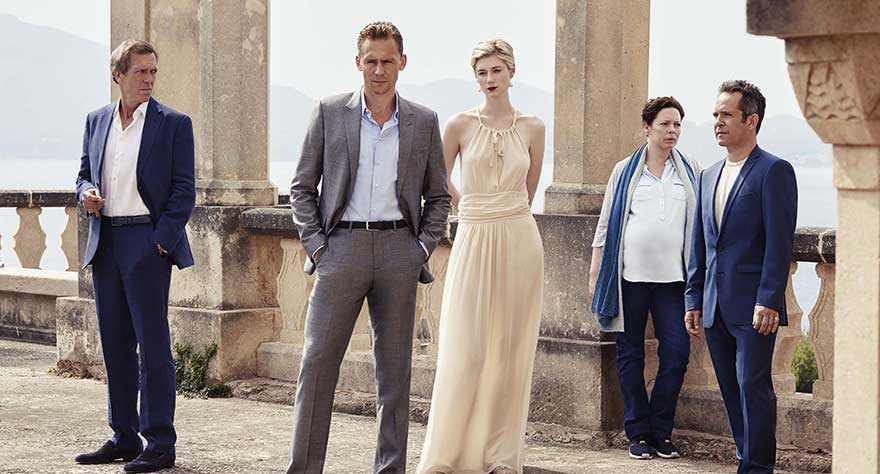 The Night Manager packs so much promise with its cast, crew, and material that it would've definitely made our Top 10 Anticipated were it not designed for the small screen. And while we're mostly all about movies here on Way Too Indie, this BBC/AMC co-produced miniseries gets special coverage for a number of reasons. It's the latest John Le Carré material adapted for the screen, it packs a wallop of an ensemble cast in Tom Hiddleston, Hugh Laurie, Olivia Colman, Tom Hollander and Elizabeth Debicki, and it's directed by Oscar-winner Susanne Bier. So there was very little standing in the way of me catching the first two episodes at the Berlinale, and I'm happy to report that the pieces are aligned just right to make this one of the most talked-about TV events of the year.
Hiddleston plays Jonathan Pine, a hotel night manager with a mysterious past who becomes privy to a massive state secret involving aspiring British Lord and all-around millionaire entrepreneur Richard Roper (Laurie). Together with British intelligence handler Angela Burr (Colman), who's got something of an obsession with catching the crooked Roper, Pine will infiltrate Roper's inner circle in an attempt to build enough surefire evidence to bring him down once and for all.
That's the gist of it, and the first two episodes lay the foundation in tantalizing fashion. Beginning with a sleek, sexy, opening credit sequence that sees fighter jets morphing into champagne bubbles and a chandelier crashing in a mushroom-cloud puff, the world of The Night Manager is one of elite danger. The golden color tones, postcard locales (especially breathtaking once the story moves to the alpine top of Zermatt, Switzerland), and lavish lifestyles that festoon the series create an impossible-to-decline invitation. This being a John Le Carré story, the air is full of suspense and intrigue from frame one, when we meet our hero during the eve of the Arab Spring in Cairo.
As one might expect, the actors fire on all cylinders. Hiddleston gets to show why he'd make a perfectly cool (if perhaps still a little too dainty) James Bond, Colman steals every scene she's in, Laurie is absolutely scrumptious as the sleazy, serpentine Roper, and Hollander makes a fantastic early impression as Roper's Iago-esque right-hand man Corcoran. If there's a weakness to be detected, it's in the series' iffy structure involving time-jumps and a weak groundwork in establishing a key relationship between Pine and one Sophie Alekan (Aure Atika). Regardless, the first two hours of this miniseries flew by thanks to the story's reliable espionage elements and tangible charisma seeping through every element. The cliffhanger that ends the second episode had me digging my nails into the seat, so April 19th—which is when the series is to premiere stateside on AMC—can't come soon enough.
Rating:
8

/10