The Criterion Collection Announces February 2015 Releases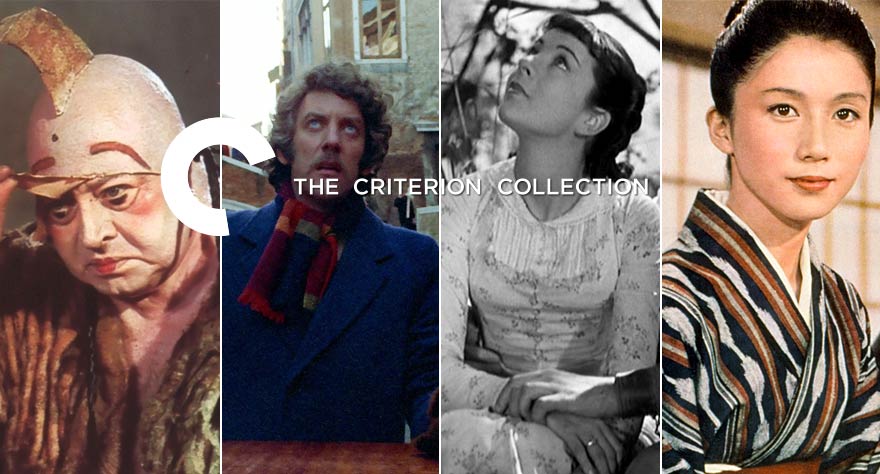 The Criterion Collection doesn't usually go with a theme with its monthly releases (a specific Halloween selection in October a small exception), though its February 2015 slate is an accidental one. Featuring overlooked and smaller releases from some of cinema's greatest auteurs, the month rounds out the collection of great films beautifully. Aside from new selections from Godard, Fellini, Renoir and a Blu-ray upgrade from Ozu, February will also bring a 70s British shocker and a cult animated film.
Every Man for Himself
Jean-Luc Godard – Available February 3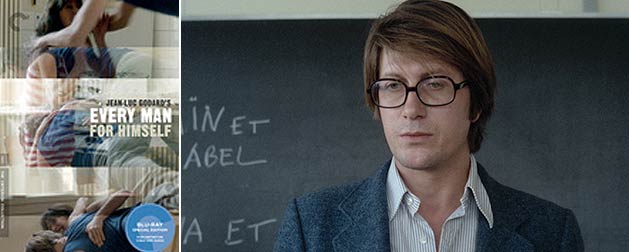 One of cinema's most prolific and notorious filmmakers, Godard went a bit more mainstream with Every Man for Himself. The film follows three protagonists (a television producers, his ex-girlfriend, and a prostitute), looking into their working and sexual relationships with each other. Not previously available on DVD in the U.S., this minor work from the master filmmaker can finally be seen by Criterion fans.
Special Features:
New high-definition digital restoration, with uncompressed monaural soundtrack on the Blu-ray
Le scénario (1979), a short video created by director Jean-Luc Godard to secure financing for Every Man for Himself
New video essay by critic Colin MacCabe
New interviews with actor Isabelle Huppert and producer Marin Karmitz
Archival interviews with actor Nathalie Baye, cinema­tographers Renato Berta and William Lubtchansky, and composer Gabriel Yared
Two back-to-back 1980 appearances by Godard on The Dick Cavett Show
Godard 1980, a short film by Jon Jost, Donald Ranvaud, and Peter Wollen, featuring Godard
Trailer
A Day in the Country
Jean Renoir – Available February 10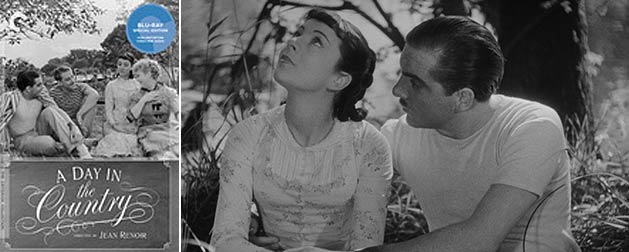 Renoir's A Day in the Country is a perfect short narrative film. While only 40 minutes long, it shows off the best of the French filmmaker's ability to create interesting character dynamics and set a romantic tone. Based on a short story by Guy de Maupassant, A Day in the Country doesn't stretch its source, letting its contained, simply story breathe in the French countryside. Short features are rarely made today, but Renoir shows how this type of film can be as satisfying and complete as any 3-hour epic.
Special Features:
New 2K digital restoration, with uncompressed monaural soundtrack on the Blu-ray
Introduction by director Jean Renoir from 1962
New interview with Renoir scholar Christopher Faulkner about the film's production
New video essay by Faulkner on Renoir's methods
Un tournage à la campagne, an 89-minute 1994 compilation of outtakes from the film
Interview with producer Pierre Braunberger from 1979
Screen tests
New English subtitle translation
Don't Look Now
Nicolas Roeg – Available February 10
Roeg's follow-up to the odd and serene Walkabout is one of the most artful and creepy horror films ever made. Don't Look Now is known for its crazy shock ending (if you don't know it, watch the film without looking it up!), but the film's gorgeous cinematography, showing off the seedier side of Venice, Italy, and great performances from Donald Sutherland and Julie Christie are definitely worth noting.
Special Features:
New 4K digital restoration, approved by director Nicolas Roeg, with uncompressed monaural soundtrack on the Blu-ray
New conversation between the film's editor, Graeme Clifford, and film writer Bobbie O'Steen
"Don't Look Now," Looking Back, a short 2002 documentary featuring Roeg, Clifford, and cinematographer Anthony Richmond
Death in Venice, a 2006 interview with composer Pino Donaggio
Something Interesting, a new documentary on the writing and making of the film, featuring interviews with Richmond, actors Julie Christie and Donald Sutherland, and coscreenwriter Allan Scott
Nicolas Roeg: The Enigma of Film, a new documentary on Roeg's style, featuring interviews with filmmakers Danny Boyle and Steven Soderbergh
Q&A with Roeg at London's Ciné Lumière from 2003
Trailer
An Autumn Afternoon
Yasujiro Ozu – Available February 17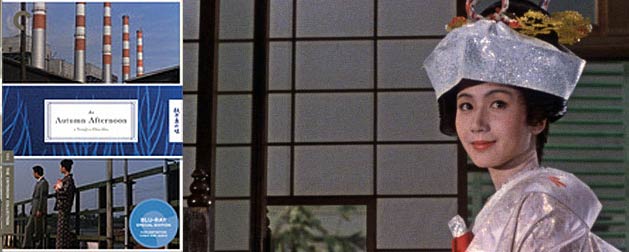 Previously inducted to the Criterion Collection (Spine #446), Ozu's swansong An Autumn Afternoon gets a much deserved Blu-ray upgrade. Like many of Ozu's best films, An Autumn Afternoon takes a somber but realistic look at aging, death, and marriage. Simply beautiful, one of the few of Ozu's films shot in color cinematography, it is a wonderful conclusion to one of Japan's greats.
Special Features:
New 4K digital restoration, with uncompressed monaural soundtrack on the Blu-ray
Audio commentary featuring film scholar David Bordwell, author of Ozu and the Poetics of Cinema
Excerpts from Yasujiro Ozu and "The Taste of Sake," a 1978 French television program, featuring critics Michel Ciment and Georges Perec, that looks back on Ozu's career
Trailer
New English subtitle translation
Fellini Satyricon
Federico Fellini – Available February 24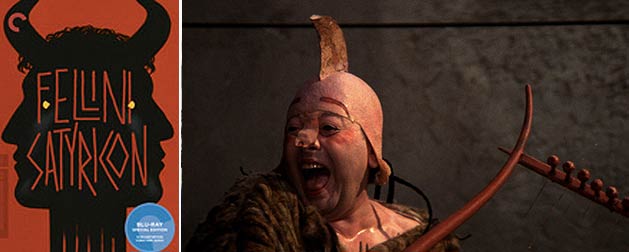 Fellini transitioned into his third phase with 1969's Satyricon, a lush tribute to sex and sin. Though Fellini certainly was no stranger to extravagance, Satyricon was certainly a departure from the more intellectually avant-garde work and even more certainly different from his early Italian neo-realism. This will certainly be one of the more visually striking releases in the collection, even if we're not sure what is going on.
Special Features:
New 4K digital restoration, with uncompressed monaural soundtrack on the Blu-ray
Audio commentary featuring an adaptation of Eileen Lanouette Hughes's memoir On the Set of "Fellini Satyricon": A Behind-the-Scenes Diary
Ciao, Federico!, Gideon Bachmann's hour-long documentary shot on the set of Fellini Satyricon
Archival interviews with director Federico Fellini
New interview with cinematographer Giuseppe Rotunno
New documentary about Fellini's adaptation of Petronius's work, featuring interviews with classicists Luca Canali, a consultant on the film, and Joanna Paul
New interview with photographer Mary Ellen Mark about her experiences on the set and her iconic photographs of Fellini and his film
Felliniana, a presentation of Fellini Satyricon ephemera from the collection of Don Young
Trailer
New English subtitle translation
Watership Down
Martin Rosen – Available February 24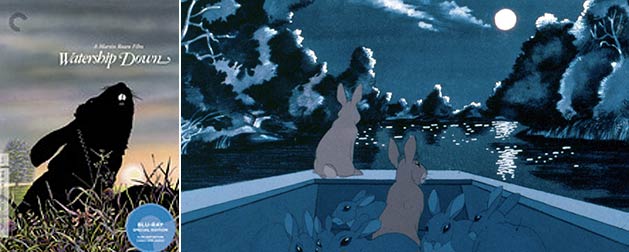 Though I don't have any nostalgic attachment to the animated adaptation of Richard Adams' landmark children's novel, I'm intrigued by its reputation – and having the Criterion Collection pick the film up is a surprising turn that only makes me more interested. The dystopian tale of a colony of rabbits seeking shelter after their home is destroyed, Watership Down is a stark, yet beautiful story for children. Only the second animated film in the collection (excluding their Laserdisc releases – Fantastic Mr. Fox being the other), this is an important distinction.
Special Features:
New high-definition digital restoration, with uncompressed stereo soundtrack on the Blu-ray
New interview with director Martin Rosen
New appreciation of the film by director Guillermo del Toro
Picture-in-picture storyboard for the entire film (Blu-ray); four film-to-storyboard scene comparisons (DVD)
Defining a Style, a 2008 featurette about the film's aesthetic
Trailer