SXSW 2015: Ned Rifle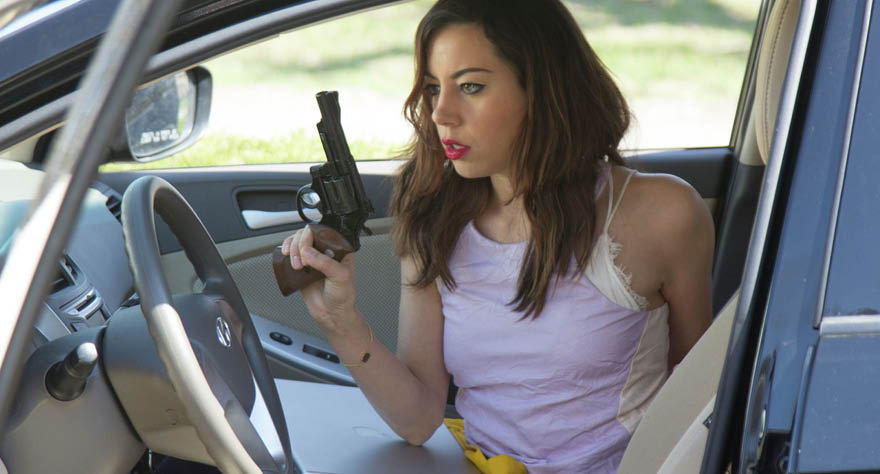 The third and final installment of Hal Hartley's Henry Fool saga sees Ned Rifle (Liam Aiken), son of Henry (Thomas Jay Ryan) and Fay Grim (Parker Posey), on a quest to find and kill his father for ruining his mother's life. Returning to this desert-dry whimsical world of misfits, along with Ryan, Posey, and Aiken, is James Urbaniak as garbage-man-turned-poet-laureate Simon Grim, who steals every scene he's in with his succinct and deadliest deadpan delivery of Hartley's epigrammatic dialogue. Ned Rifle picks up four years after the events of Fay Grim, during which Ned has found God while living with a devoutly Christian family, Fay has been incarcerated for life without parole, and Henry has, well, revealing where he's been surely counts as a spoiler, but thirsty fans of the trilogy will feel quenched. The newcomer to the familiar ensemble is Parks and Recreation's Aubrey Plaza. She not only radiates intelligence without speaking a word and then blasts everyone away with it when she does, but, by the film's halfway mark, twists that same world around her little finger with her feral screen presence. A package of talent that Hartley earnestly exploits. She plays Susan, a woman who is stalking Simon for her own reasons (which, naturally, revolve around Henry).
The greatest compliment one can give Ned Rifle is that even those who've never seen Henry Fool or Fay Grim will be stimulated enough to sympathize and laugh with—and sometimes at—Hartley's egomaniacal troupe of characters. "Don't be taken," says a doctor at one point, "he's a great tragic actor." A sentiment that applies to practically everyone in the entire film except Ned, who instills a sense of righteousness (even if it so easily invites mockery) much needed to complete the saga. That said, one gets the sense that Ned Rifle's hurried conclusion will leave those who haven't seen the previous two films slightly gutted. Nothing but a minor quibble, however, given everything that came before. With its droll highbrow vocabulary, cozy half-serious tone, and finger-snapping running time, Ned Rifle invites people to seek out all things related to the impressionable degenerate that is Henry Fool, and triumphantly concludes a fun-loving trilogy.