Now Streaming: Movies and TV to Watch at Home This Weekend – June 5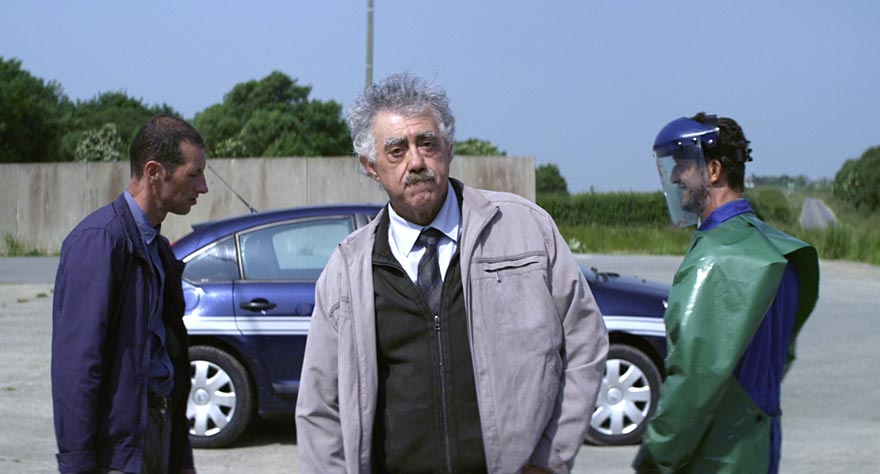 Happy Sense8 day! The newest creation from the Wachowskis and J. Michael Straczynski (prolific television writer with credits including He-Man and the Masters of the Universe, Murder She Wrote, and Babylon 5) is now available in all its 12-episode trippy glory to stream on Netflix. For the Wachowskis, it is a long-coming welcome to television and should be a natural fit with their complicated worlds and big ideas. I'll be honest and say that I've watched the trailer a few times and still am not quite sure exactly what to expect or what is going on—it has something to do with a group of eight strangers who have some sort of neural cosmic link to each other. I'm more than willing to let the sci-fi concepts to take me to weird and unexplainable places. For Netflix, it is yet another example of giving free rein to auteur storytellers—let's hope the results warrant the trend.
Netflix
Li'l Quinquin (Bruno Dumont, 2014)
Later this week, Way Too Indie will be ranking our favorite movies of the year so far. Bruno Dumont's Li'l Quinquin has a chance to be on this list—though it would make any list on the strangest films of the year. In rural France, human remains begin turning up inside of dead cows. Commandant Van der Weyden and his partner Carpentier are on the case, but don't think this is your standard crime procedural. With Dumont's sinister comic streak and a whole lot of uncomfortable moments, Li'l Quinquin is addictively bizarre. Originally designed as a television miniseries, it has been turn into a 200 minute film—with its length working in part with the offbeat narrative. If you have the time and a little patience, Li'l Quinquin is definitely a unique experience.
Other titles new to Netflix this week:
Apocalypse Now & Apocalypse Now: Redux (Francis Ford Coppola, 1979)
The 'Burbs (Joe Dante, 1989)
Hits (David Cross, 2014)
The Others (Alejandro Amenábar, 2001)
Y Tu Mamá También (Alfonso Cuarón, 2001)
Amazon Prime Instant
Troll 2 (Claudio Fragasso, 1990)
Let's keep this weird trend going with a much different film, often considered the worst movie ever made. If you don't think bad movies can be a lot of fun to watch, you haven't seen Troll 2, a delightfully inexplicable horror film centered around a young boy's experience in the haunted town of Nilbog. It is a perfect film to invite some friends over, grab some adult beverages, kick back and have a great time. If you have the nerve, you can also check out Troll on Amazon Prime, though it isn't required viewing—Troll 2 was taken as a title as a cash-grab off of the moderately successful low-budget original, without any real care to make any connections.
Other titles new to Amazon Prime this week:
Roman Holiday (William Wyler, 1953)
Seven Psychopaths (Martin McDonagh, 2012)
The Shining (Stanley Kubrick, 1980)
Sid & Nancy (Alex Cox, 1986)
Something Wild (Jonathan Demme, 1986)
Fandor
Beauty and the Beast (Jean Cocteau, 1946)
Now to get to some serious cinema, Cocteau's Beauty and the Beast is one of the most beautiful and magical films ever made. The director, who was also a poet and cartoonist, creates a spectacular world, one just as vibrant as the animated version (and without the need for talking teapots). A new live-action Beauty and the Beast is now in production, but I can't imagine it doing anything better than this original. Though its practical effects and amazing makeup designs, the film has both an eerie and fantastical mood. Like many offerings on Fandor, Beauty and the Beast is only available for a limited time, expiring after June 14. Also available is Fandor's newest Spotlight, called "Adventures in Animation," highlighting bold visions in animation from around the world. Among the selections are An Oversimplification of Her Beauty, Alois Nebel, Kirikou the Sorceress and The Pettifogger.
Other titles new to Fandor this week:
Black Orpheus (Marcel Camus, 1959)
Breaking Through (Cindy L. Abel, 2013)
Donkey Skin (Jacques Demy, 1970)
Killer Cop (Luciano Ercoli, 1975)
Uncertain Terms (Nathan Silver, 2014)
Video On-Demand
Jupiter Ascending (Andy & Lana Wachowski, 2015)
The release of Sense8 this week is peculiar, though perhaps necessary coincidence. The Wachowski's other work from this year, Jupiter Ascending, was by most metrics an utter failure, but it is an interesting one. If you read the bad reviews and wrote the film off, it's worth a look for its huge action set pieces and the unique voice of its auteurs. And there's Oscar winner Eddie Redmayne's whacked-out performance, which can be duplicated and ridiculed, but must be seen first-hand to be believed. No doubt, the Wachowski's have delivered better work than Jupiter Ascending (perhaps their new show available in the same week is true of that), but the filmmaking duo continue to deserve attention.
Other titles new to VOD this week:
Focus (Glenn Ficarra & John Requa, 2015)
McFarland, USA (Niki Caro, 2015)
Ned Rifle (Hal Hartley, 2014)