Now Streaming: Movies and TV to Watch at Home This Weekend – May 15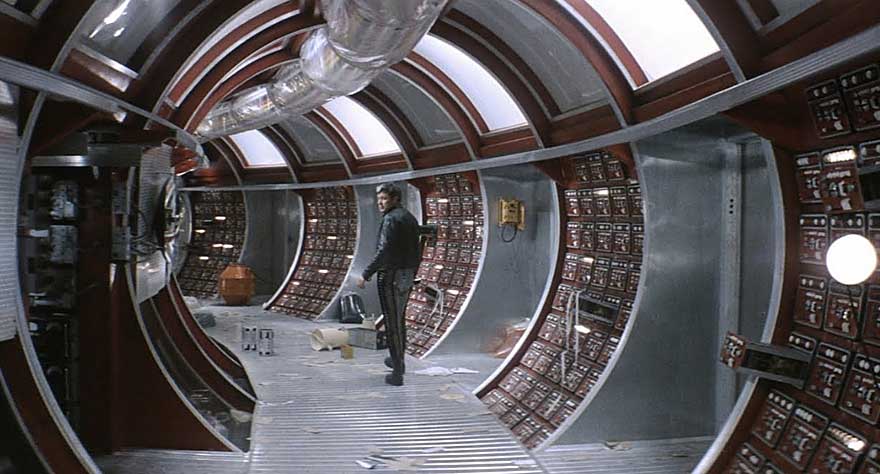 In a wildly unprecedented move, Netflix has decided to release its next original series one episode at a time, week-to-week. How cutting edge of them! It was announced this week that their series Between, a plague thriller where no one lives past the age of 21, would shun the network's binge experience model for a more traditional release schedule. It remains to be seen if this opens more doors for Netflix to try out multiple release approaches concurrently (maybe not a bad idea given all the content they are putting out now), but if you are feeling a little anxious about an upcoming lack of binge-worthy films and TV, have no fear. Check out what's new to all the streaming platforms below!
Netflix
Rabbit Hole (John Cameron Mitchell, 2010)
Starring Nicole Kidman and Aaron Eckhart as grieving parents, Rabbit Hole is one of the most devastating and emotionally complex American films in recent years. Coming off of Hedwig and the Angry Inch and Shortbus (two very good films), director John Cameron Mitchell showed unequivocally that he could tell a mainstream drama with just as much care to character and theme. The film delicately grasps the inner struggle and effects on personal relationships after a tragic event. It never asks for melodramatic, cheap tears, instead relying on two intricate character portraits and very good performances to make you all weepy. Also, for fans of sudden star Miles Teller, he is featured in the first role that got him notice—as a teen partly responsible for the tragedy. It is a quiet and powerful performance from the young Teller, very different from the persona we now know, and the first step in his promising career. If you somehow have missed this wonderful film (or avoided it because of its heavy content), grab the tissues and watch it now on Netflix.
Other titles new to Netflix this week:
Fruitvale Station (Ryan Coogler, 2013)
Late Phases (Adrián García Bogliano, 2014)
The Liberator (Alberto Arvelo, 2013)
Maidan (Sergei Loznitsa, 2014)
Sagrada: The Mystery of Creation (Stefan Haupt, 2012)
Amazon Prime
Art and Craft (Sam Cullman & Jennifer Grausman, 2014)
One of the stranger doc profiles from last year, Sam Cullman and Jennifer Grausman's Art and Craft is an intimate portrait of Mark A. Landis, possibly the most notorious art forger ever. The weird thing about Landis, though, is that he doesn't rip off famous pieces of art for fortune, but much more complicated reasons. The doc gets a lot of access to Landis and his process, as well as the people he's duped over the years. The film really challenges its viewer by presenting a very talented man who is using his gifts in ethically grey ways. Landis is also a very sad and perhaps sick man, adding more complex levels to this portrait and his actions. Ultimately, Art and Craft will make you reconsider questions around artistic license, forgery and intent. For more thoughts on the film, check out our review from earlier this year. Art and Craft is an Amazon Prime exclusive, so you won't find it streaming anywhere else.
Other titles new to Amazon Prime this week:
Defiance (Season 2)
Slugterra: Slug Flu Showdown (Logan McPherson, 2014)
Tyler Perry's A Madea Christmas (Tyler Perry, 2014)
Fandor
Solaris (Andrei Tarkovsky, 1972)
With the 2015 Cannes Film Festival is full swing, Fandor is using its huge selection of Criterion Collection films to highlight past winners at the festival. Tarkovsky's moody and striking Solaris is among them. The nearly three-hour epic is the story of a psychologist sent into space and the effects that loneliness, distance and timelessness have on his psyche. Often regarded as one of the greatest and most thoughtful science fiction films ever, Solaris won the Grand Jury prize and esteemed Palm d'or at the 1972 Cannes Film Festival. If you're looking for a great double feature, it can be excellently paired with Christopher Nolan's recent epic Interstellar, which is available for rent on VOD. Now my weekly reminder: many of Fandor's selections are only available for a limited time, and Solaris will be streaming until May 24, so don't wait around if you are interested in this one. Other selections in Fandor's Cannes collection are Antonioni's L'eclisse, underseen Lars von Trier Europa, and a few other titles listed below.
Other titles new to Fandor this week:
The Double Life of Veronique (Krzysztof Kieslowski, 1991)
Giuseppe Makes a Movie (Adam Rifkin, 2014)
Kwaidan (Masaki Kobayashi, 1964)
A Tale of Winter (Eric Rohmer, 1992)
Z (Costa-Gavras, 1969)
Video On-Demand
Slow West (John Maclean, 2015)
Released on VOD the same day as it hits theaters, John Maclean's feature debut Slow West has garnered incredibly high praise from critics throughout its festival run. When we saw the Western throwback at Tribeca, we said "[Slow West] is the perfect example of a first time filmmaker who knows what he wants and how to invoke talent, making for a visionary and excellently executed film." The film stars Kodi Smit-McPhee as a teenager travelling west in search of the woman he loves, accompanied by a mysterious man (Michael Fassbender). Now you have the chance to see what is bound to be one of the best indies of 2015 whether its playing in a theater near you or not.
Other titles new to VOD this week:
John Wick (Chad Stahelski & David Leitch, 2014)
Maggie (Henry Hobson, 2015)
Still Alice (Richard Glatzer & Wash Westmoreland, 2014)