SFIFF Announces Feature Film Competition Contenders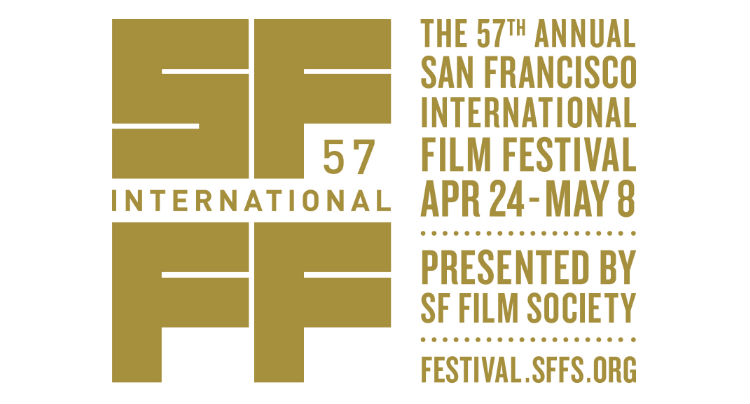 The 57th annual San Francisco International Film Festival has announced the slates for its 2014 New Directors Prize and Golden Gate Award for Documentary Feature. The festival runs April 24-May 8.
From the official press release:
San Francisco, CA — The 57th San Francisco International Film Festival(April 24 – May 8) today announced the films in competition for the New Directors Prize and the Golden Gate Award (GGA) contenders in the documentary feature category. SFIFF will award nearly $40,000 in total cash prizes this year. The New Directors Prize of $10,000 will be given to a narrative first feature that exhibits a unique artistic sensibility and deserves to be seen by as wide an audience as possible. The GGA documentary feature winner will receive $10,000 and the GGA Bay Area documentary feature winner will receive $5,000. A total of 25 countries are represented in this year's competing feature films. Independent juries will select the winners, which will be announced at the Golden Gate Awards, Wednesday, May 7.
In conjunction with the announcement of the feature film competition slates, SFIFF has launched the sale of CineVoucher 10-packs. These discounted ticket bundles are now available for $120 for SFFS members and $140 for the general public. CineVouchers can be redeemed for film tickets beginning April 1 for SFFS members and April 4 for the general public. For more information and to purchase CineVoucher packages, visit sffs.org.
2014 NEW DIRECTORS PRIZE (NARRATIVE FEATURE) COMPETITION
The Amazing Catfish, Claudia Sainte-Luce, Mexico
Set in Guadalajara, The Amazing Catfish follows the quiet transformation of a solitary young woman informally adopted and absorbed into a rambunctious matriarchy in a state of crisis. Filmed by Claire Denis' long-time cinematographer, Agnès Godard, Claudia Sainte-Luce's debut feature, based loosely on events from her own life, blends a wry and moving naturalism with moments of inspired comedy.
The Blue Wave, Zeynep Dadak and Merve Kayan, Turkey/Germany/Netherlands/Greece
In this low-key, loosely plotted coming-of-age tale, a Turkish teenage girl wrestles with mood swings, unfocused restlessness, familial responsibilities, shifting friendships and romantic complications during a year of quiet tumult.
Difret, Zeresenay Berhane Mehari, Ethiopia
In a contemporary Ethiopian village, a 14-year-old girl is abducted from school in an attempt at forced marriage, a tradition in her community. Her efforts to free herself from a preordained future set off a legal firestorm in this powerful drama inspired by a true story that pits the law against an entrenched cultural mindset.
The Dune, Yossi Aviram, France/Israel
Delving into issues of identity and aging, this nuanced relationship drama portrays the personal crises faced by an aging gay cop in France and a younger Israeli man who is found on the beach, mute and without any identification.
History of Fear, Benjamín Naishtat, Argentina/France/Germany/Uruguay/Qatar
Paranoia runs rampant in this accomplished first feature, instilling a disorienting sense of dread in the viewer. Are the strange occurrences in an affluent Buenos Aires suburb evidence that the skittish residents are actually being targeted? Naishtat foregoes ready explanations or assurances in favor of foreboding suggestions in a film that is sprawling both in scope and implications but astonishingly exacting in its execution.
Manos Sucias, Josef Wladyka, USA/Colombia
A reluctant smuggler and his eager neophyte brother shepherd a dangerous narco-torpedo up the coast of Colombia, posing as fishermen. Paramilitary, guerrillas and hardscrabble desperation suffuse every inch of the jungle and waters that surround them, eager to separate the siblings from their only opportunity to escape the circumstances of their lives.
Of Horses and Men, Benedikt Erlingsson, Iceland/Germany
The relationship between man and beast is explored in a series of dryly humorous, linked episodes set in a small Icelandic hamlet. With its idiosyncratic portrait of village life, this remarkable debut features several unforgettable visual tableaux.
Salvation Army, Abdellah Taïa, Morocco
Adapting his autobiographical novel, director Abdellah Taïa tells the story of a gay Moroccan boy finding self-realization and personal strength within a society that shuns him. Shot by the brilliant Agnès Godard, the film takes the form of a diptych, telling the protagonist's story in two different time periods and locales.
South Is Nothing, Fabio Mollo, Italy/France
Miriam Karlkvist took a well-deserved Shooting Star award at the Berlinale for her portrayal of an androgynous teenage girl negotiating life in a mafia-controlled town whose code of silence is destroying her family. Filmed in Reggio Calabria, this debut feature combines poetic realism with hard-edged cynicism.
Trap Street, Vivian Qu, China
What's it like to be a 21st-century young adult-with access to gadgets, the Internet and other high-tech conveniences — within China's surveillance state? First-time writer-director Vivian Qu's taut, slow-building noir cleverly uses a simple boy-meets-girl tale to unearth a hidden world of government control lurking just under the surface.
White Shadow, Noaz Deshe, Italy/Germany/Tanzania
Inspired by news reports of the ongoing perils faced by albinos in Tanzania, Noaz Deshe's film depicts a fractured and uneasy world, where superstition and the rule of law collide. An albino youth named Alias must learn to navigate through a culture not just unsympathetic to his condition, but actively violent towards it.
In addition to these 11 first features in competition, the New Directors section of SFIFF57 includes 14 out-of-competition films, which will be announced at the Festival's press conference Tuesday, April 1.
2014 GOLDEN GATE AWARDS DOCUMENTARY FEATURE COMPETITION
Coast of Death, Lois Patiño, Spain
From the first entrancing images of trees being cut down in a fog-filled forest to the later blues of the sky and ocean fusing to erase the horizon, the always static frames of this documentary offer a meditative and prismatic view of Spain's much storied and dangerous "Coast of Death."
The Last Season, Sara Dosa, USA
Every September, over 200 seasonal workers, many of them Cambodian, Lao, Hmong, Mien and Thai, descend upon the tiny town of Chemult, Oregon, to search the woods for the rare Matsuke, a fungus highly prized in Japan. This documentary examines the bond between two of these hunters, an elderly Vietnam vet and a survivor of the Khmer Rouge, during one unusually hard season.
The Overnighters, Jesse Moss, USA
Unemployed men and women across America want new oil jobs in North Dakota, but housing is at a premium. Enter Pastor Jay Reinke. Despite protests from his own congregation, he opens up his church to "overnighters" — people in search of a second shot at the American Dream. The film expertly and compassionately depicts the conflict between locals, these new residents and Pastor Reinke's controversial policy.
Return to Homs, Talal Derki, Syria/Germany
Winner of the World Cinema Grand Jury Prize for Documentary at Sundance, this dispatch from the besieged Syrian city of Homs is both an elegy and a call to action. Filmed between 2011 and 2013, it presents a visceral eyewitness account of the conflict as a peaceful uprising descends into civil war and idealistic young men are transformed into revolutionary martyrs.
Soul Food Stories, Tonislav Hristov, Bulgaria/Finland
Muslim, Christian, Roma and atheist Communists live together peacefully in Satovcha, a Bulgarian village. They have differing theologies and politics, but are united by a love of food and the eternal mystery of being men and women. Beautifully shot, the film unfolds like a 10-course meal, with observations of food preparation and religious diversity laced into the recipes.
Stop the Pounding Heart, Roberto Minervini, USA/Italy/Belgium
This unique hybrid of documentary and narrative offers an evocative portrait of the quotidian lives of a devout young Christian goat farmer and the bullriding cowboy who lives nearby. As much a portrait of the East Texas town where they live as it is a relationship drama, the film combines ethnography and budding romance to compelling effect.
Three Letters from China, Luc Schaedler, Switzerland
Luc Schaedler's latest work presents distinct and illuminating portraits of contemporary life in China. Attentively observing life on a parched farm, a grim industrial zone, a rural village and a booming megacity, the documentary expressively reveals the upheaval and uncertainty of a rapidly changing nation through the deeply engrossing stories of its people.
We Come as Friends, Hubert Sauper, France/Austria
South Sudan may have declared its independence but that hasn't stopped multinationals and missionaries from laying claim to its natural resources and influencing its people's religious beliefs. Employing intrepid techniques and striking visuals, documentarian Hubert Sauper (Darwin's Nightmare) delivers another piercing examination of the human cost of neocolonialism that will provoke both thought and outrage.
In addition to these eight features by emerging filmmakers in the documentary competitions, the Golden Gate Awards also will include competitors in six other categories. These films will be announced at the Festival press conference on Tuesday, April 1.