SF IndieFest Top 10 Short Films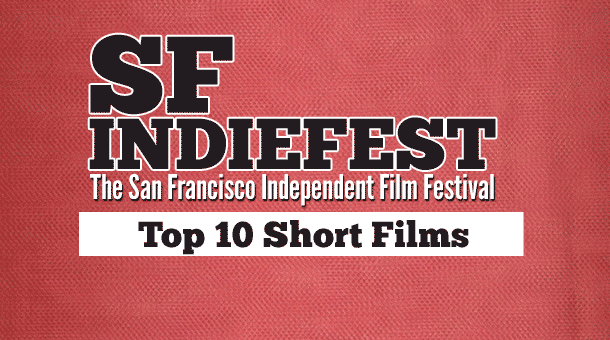 There were loads of fantastic independent shorts shown at this year's SF Indiefest, and while I wasn't able to watch all of them, the ones I did see (I still saw a lot) ran the gamut from exciting, to comedic, to thought-provoking, to emotionally devastating. These were my favorites from the festival, though almost all of the shorts I saw are worth watching.
Top 10 Short Films from SF IndieFest
#1 The Beginning
A flurry of hilarious dialogue delivered rapid-fire, Brian Tolle's The Beginning is a polished, funny, captivating short that grabs you by the ears and never lets go. We join Daniel and Richard immediately after a sexual adventure, as they awkwardly try to suss out each other's intentions, wants, and needs. Within minutes, we watch them go from strangers to lovers, and the dialogue that takes us on this mini-journey is sharper than sharp. Nothing bad to say about this one. Everything is pitch-perfect here, and the audience absolutely ate it up.
#2 Best if Used By
Maggie's husband, Max, just died. She smuggles his body out of the morgue and carts him to the grocery store she works at. Gradually, more and more people discover what Maggie has done, and instead of calling the police, they participate in hilarious existential conversations as they pow-wow around Max's lifeless corpse. The dialogue and comedic timing are spot-on here, which is key as the morbid premise can be difficult to laugh with. It's a good-looking film, to boot.
#3 Desire Inc.
Experienced filmmaker Lynn Hershman provides a thought-provoking look into technological fantasy Desire Inc. Filmed in 1985 before the internet had taken over the world, Hershman shares a set of ads she created and ran in the Bay Area, in which a seductive model urges viewers to call her. We are then shown footage of actual men who responded to the ads and the fascinating effects the ads had on their minds. It's a deeply explorative work of art that contemplates the "phantom limb" we all utilize to reach into our television screens and interact with our most personal fantasies. When asked in the Q&A that followed the film if she would have made the film differently in the internet age, Hershman stressed that Desire Inc. and all films are portraits of their time and forever live just in that place.
#4 The Missing Key
A touching tale about inspiration, determination, and friendship set in a wholly unique, gorgeously realized version of 1920's Venice, Jonathan Nix's The Missing Key blew me away. Hero Wasabi (adorable) is a composer who aspires to win the grand prize at the Abacus Scroll musical competition, but standing in his way is a greedy veteran composer who will step on and over anybody who crosses his path.
The character and set design are amazing. Each character has a different mechanical device in place of a head, like a record player (Hero), telephone, or radio. The Venice Nix and his team imagine is lush and deeply colorful, almost like a G-Rated Bladerunner. The animation is a seamless combination of both 3-D and hand-drawn images that works so well together, you forget that it's a movie and completely lose yourself in the world. It's easy to root for Hero, a beautifully animated character, whose journey of musical discovery and triumph give the pretty images substance.
#5 Foxed!
A young girl, Emily, has been enslaved by foxes in a cave underneath her house. She manages to evade the foxes long enough to discover that she has been replaced in her home by…a fox! Frighteningly, she also discovers that her mother is unaware of the swap, fooled by the foxes' illusion.
3-D cinema advocate and pioneer James Stewart and director/writer Nev Bezaire present a gorgeous stop-motion animated film with a dark twist. The meticulously crafted figures and sets are enchantingly dark and photographed cinematically, with minor digital effects used appropriately, creating a rich atmosphere. The sinister tone of the film works well without being alienating or off-putting, evoking childhood fears of the big bad wolf and the boogeyman. The final moments are very effective. The prospect of Foxed! becoming a full feature is exciting, and I look forward to delving into Stewart and Bezaire's world even deeper.
#6 DeafBlind
A deaf-blind woman, Maggie, feels a deep connection with Christ that she discusses with a priest. Though she is strong spiritually, she is devastated by depression and loneliness. One day, a mysterious man starts following her around her house and watching over her, though his intentions are nebulous. Director Ewan Bailey uses just the right amount of ambiguity in this stirring tale, and the cinematography is haunting and cold-as-ice. A very resonant piece.
#7 Manhole 452
In the vein of Chris Marker's classic La Jetee, Manhole 452 sets well-acted, cryptic narration by an anonymous man over footage of manholes erupting with water and fire on San Francisco's Geary Street. The man describes an incident in which his car was split by an exploding manhole cover and the paranoia and obsession with probability that resulted. The combination of the dialogue and imagery is riveting, and had me shaking in my boots as I rode on the bus down Geary Street the day after I saw the film.
#8 Retrocognition
A moving tapestry of fragments from 50's golden age radio and sitcoms, Retrocognition is one of the most visually striking things I saw at the festival. Using retro sound clips and images stitched together, director Eric Patrick tells a disturbing (a baby is murdered) tale of a man and wife that looks and feels like nothing you've ever seen before. You need to see this.
#9 La Storia di Sonia (Sonia's Story)
A surrealistic journey of perseverance, we follow Sonia from childhood to adulthood in a politically turbulent 1970's Italy. The cinematography and sound design are highly-stylized, recalling the great Sergio Leone and surrealist art. Director Lorenzo Guarnieri really takes his time to let the images sink in to our brains, and some of the images (particularly one in which Sonia emerges from a wall of water) are incredibly poignant and unforgettable.
#10 Keep the Fire
The funniest film of the festival, by far. In Keep the Fire, a Keeny Loggins fan describes the legend behind the cover art of Loggins' classic album, Keep the fire, to a group of music snobs at a listening party. That's funny already. We are then transported back to the days when the album art was conceived, in a ridiculously embellished false reenactment. The crowd at the Roxie was dying with laughter, and the film's absurdity and sense of humor are undeniable. Better than Saturday Night Live's Blue Oyster Cult sketch. Yes, I said it.