Screening: The Ghastly Love of Johnny X in San Francisco on February 15th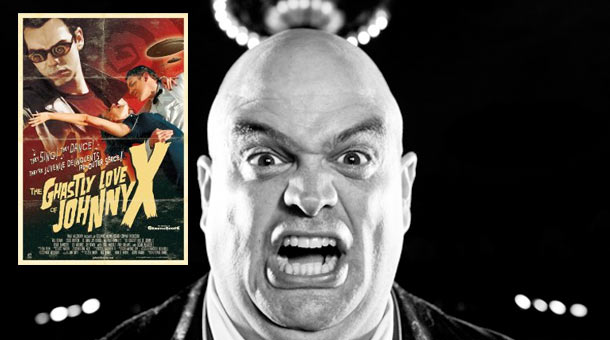 ATTENTION BAY AREA READERS! As the 2013 Academy Awards approach, you might be prepping yourself for the star-studded event by making plans to throw an Oscar-themed party, maybe making bets on who the big winners will be with your friends, or perhaps preparing to pack up the car and drive to Hollywood to catch glimpses of your favorite stars and starlets on the red carpet. We here at Way Too Indie have a much better, infinitely more exciting way to pump yourself up for the biggest event in Hollywood:
Attend a screening of the lowest grossing movie of 2012, The Ghastly Love of Johnny X!
This Friday, February 15th at 9:30pm at the Roxie Theater in San Francisco as a part of SF IndieFest, director Paul Bunnell and the film's cast will be in attendance to present this glorious black-and-white sci-fi musical melodrama in a celebration of all things wacky and weird. Johnny X and his band of misfits are exiled to earth from the far-reaches of outer space. Johnny's ex, Bliss, has stolen his Resurrection Suit, which grants its wearer powers, and Johnny and his gang are out to retrieve the cosmic suit!
After being bombarded with big-budget films optimized to attract Oscar attention, we escape to independent film. After bombarding ourselves with artsy, emotionally draining indie films, we escape to retro, silly, melodramatic, outrageous films like Johnny X. As added incentive for film geeks, the movie was filmed with the recently discontinued black and white Kodak Plus-X film stock. Very cool.
Way Too Indie will be there to partake in the sci-fi epicness, and we hope to see you there too!