Richard Linklater to be Honored at SFIFF 2014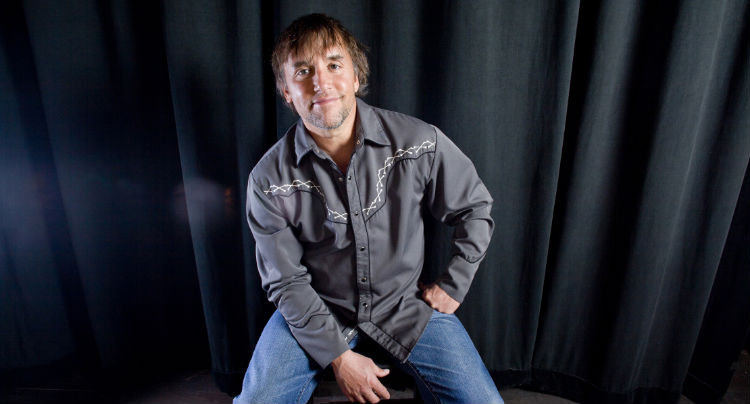 The San Francisco Film Society will honor Richard Linklater with the 2014 Founder's Directing Award at the 57th annual San Francisco International Film Festival, which runs from April 24-May 8. Linklater wowed the SFIFF festival goers last year with the excellent Before Midnight and looks to do the same this year with the ambitious Boyhood. His incredible catalogue of films also includes Slacker, Dazed & Confused, Waking Life, Before Sunset/Sunrise, and many more.
For more info, visit sffs.org
From the official press release:
San Francisco, CA — The San Francisco Film Society announced today that filmmaker Richard Linklater will be the recipient of the 2014 Founder's Directing Award at the 57th San Francisco International Film Festival(April 24 – May 8), honoring the quintessentially American director's expansive body of work and celebrating the upcoming release Boyhood, his groundbreaking new film. The award will be presented to Linklater at Film Society Awards Night, Thursday May 1 at The Regency Center.
Linklater will also be publicly honored at An Evening with Richard Linklaterat the Castro Theatre, Friday May 2, 7:00 pm. An onstage interview and a selection of clips from his notable directing career will be followed by a screening of Boyhood. Filming over the course of 12 years, Linklater and his cast depict a young man's journey from a 6-year-old boy to 18-year-old college freshman. The resulting film "has no precedent" according to the Hollywood Reporter's Todd McCarthy. "Never has the long arc of the journey from childhood to college been portrayed as cohesively and convincingly as Richard Linklater has done."
"Richard Linklater is one of our country's great creative minds," said San Francisco Film Society Executive Director Noah Cowan. "His curiosity about cinema's endless possibilities and his landmark collaborations with many of the world's most interesting actors mark him as a profound and important force in our medium. It is our great honor to welcome him here to accept the 2014 Founder's Directing Award."
One of the most profound and prolific American independent filmmakers of the last 20 years, Richard Linklater first burst onto the scene with his scrappy time capsule of Austin weirdness, Slacker (SFIFF, 1991). Since then Linklater's work has graced international film festival lineups, helped launch the careers of a number of prominent movie stars (Matthew McConaughey, Ben Affleck, Parker Posey) and garnered multiple Oscar nominations. Boyhood is his 18th feature film.
The Film Society and its year-round programs in exhibition, education and filmmaker services will benefit from the Film Society Awards Night fundraiser honoring Linklater. The star-studded event will also honor the recipients of the Peter J. Owens Award for excellence in acting and the Kanbar Award for excellence in screenwriting. Honorees in recent years have included Harrison Ford (Owens Award 2013), David Webb Peoples (Kanbar Award 2012), Judy Davis (Owens Award 2012), James Toback (Kanbar Award 2009), Robert Redford (Owens Award 2009) and Robert Towne (Kanbar Award 2007). Victoria Raiser and Todd Traina are co-chairs of this year's gala.
The Founder's Directing Award is presented each year to a master of world cinema and is given in memory of Irving M. Levin, visionary founder of the San Francisco International Film Festival in 1957. It is made possible by Irving's son and current SFFS board member Fred M. Levin and Fred's wife Nancy Livingston. The award was first bestowed in 1986 on iconic filmmaker Akira Kurosawa, and for many years carried his name.
The award has brought many of the world's most visionary directors to the San Francisco International Film festival over the years. Previous recipients are Philip Kaufman, USA; Kenneth Branagh, England; Oliver Stone, USA; Walter Salles, Brazil; Francis Ford Coppola, USA; Mike Leigh, England; Spike Lee, USA; Werner Herzog, Germany; Taylor Hackford, USA; Milos Forman, Czechoslovakia/USA; Robert Altman, USA; Warren Beatty, USA; Clint Eastwood, USA; Abbas Kiarostami, Iran; Arturo Ripstein, Mexico; Im Kwon-Taek, Korea; Francesco Rosi, Italy; Arthur Penn, USA; Stanley Donen, USA; Manoel de Oliveira, Portugal; Ousmane Sembène, Senegal; Satyajit Ray, India; Marcel Carné, France; Jirí Menzel, Czechoslovakia; Joseph L. Mankiewicz, USA; Robert Bresson, France; Michael Powell, England; and Akira Kurosawa, Japan.