Post-Weekend News Roundup – Mar. 16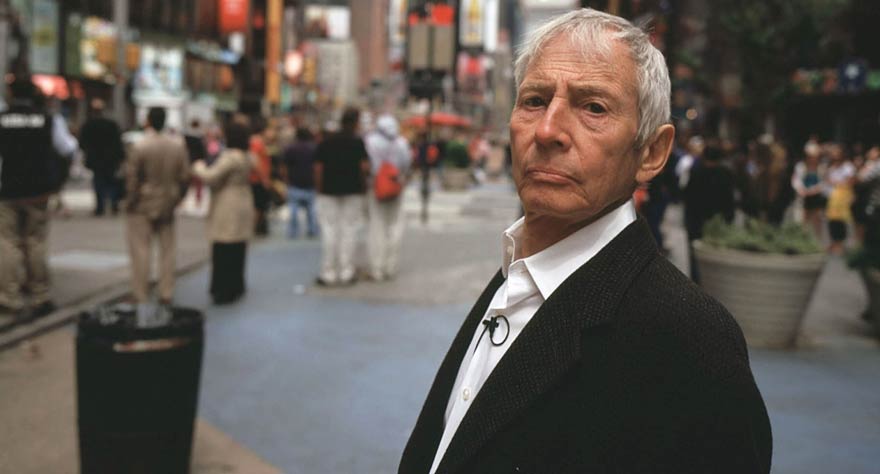 True crime documentary films have the power to set the record straight, to observe facts and events with a clear eye. Films like Paradise Lost and The Thin Blue Line set men free from life or death sentences for crimes they did not commit. During last night's mini-series finale of The Jinx: The Life and Deaths of Robert Durst, something else happened. Andrew Jarecki's entertaining pulp profile of the millionaire real estate family and the suspicion surrounding three murders ended with the filmmakers uncovering the smoking gun. Durst had been determined not guilty in a previous case and was a prime suspect in two others, but without proof that could fully link him. If you didn't watch The Jinx finale (or any of it), it is a prime example of the power of film and its real-world effect. You can also see the wonderful New York Times rendering of events, news that broke shortly before we saw it all play out on HBO. And here are other news items from the week that you may have missed:
RIP Richard Glatzer, Co-director of Still Alice
Remembering a film artist that has passed on wasn't intended to be a staple in this weekly feature, but that is unfortunately how things have played out recently. Richard Glatzer, who battled ALS while continuing his career as a writer and film director, is a true hero. His last film, Still Alice, is a beautiful portrayal of how disease can affect an entire family, but also a stirring tribute to those who don't let their ailments deter them from life. The film will always be a touching tribute to Glatzer's career. For a tribute on the man, please read the Hollywood Report.
It Follows Big Hit in Limited Release
While only grossing an estimated $163,000 in its opening weekend, the indie horror flick had the top per screen average of the weekend at $40,750. This puts It Follows as the second highest per screen opening average of the year, behind A Most Violent Year, and 9th overall in the past 12 months. The film has garnered rave reviews on the festival circuit, and we called its inventive monster one the scariest ever. It Follows will be spreading to more theaters in the coming weeks before it infects Video On-Demand on March 27.
Kevin Smith Announces Clerks III, Possible Other Films
A few years back, while we were all hotly anticipated Red State, Kevin Smith announced that he was going to retire from filmmaking to focus on podcasting and film distribution. Well, the prolific indie filmmaker has apparently had a change of heart. From The Dissolve, Smith has announced that he'll be revisiting the series that put him on the map, as Clerks III will begin shooting in May. Currently, Smith has a few other projects in the works, including Yoga Hosers (a sorta spiritual sequel to Tusk), and potentially a sequel to his early film Mallrats.
Martin Scorsese (Maybe) Directing Mike Tyson Biopic
In other director attaching news, Jamie Foxx teased that the legendary director will be helming his long anticipated Mike Tyson biopic during an interview on Uproxx. Scorsese, of course, made the greatest profile of a boxer of all time, so this would be an interesting return to the ring. Raging Bull defined how combat sports are put on film and Scorsese could be the perfect fit for the dynamic and ferocious personality of Mike Tyson. At this point, there is no confirmation, but we can dream a little, can't we?
SXSW Opens Its 2015 Fest
Austin's SXSW film festival has grown into one of the biggest destinations for indie and genre films, with films like Tiny Furniture, Bridesmaids, The Cabin in the Woods and Chef making their world premieres in recent years. Couldn't make it to Austin this year? Well, we have you covered with reviews from the festival all week. You can check out the full lineup here.
Trailer of the Week: Iris
Last week I mentioned the late filmmaker Albert Maysles's upcoming film Iris, and now the first trailer for the doc has dropped. The portrait of legendary fashion icon Iris Apfel looks to fit alongside a number of recent fantastic documentary profiles of aging artists such as Bill Cunningham New York, Joan Rivers: A Piece of Work, Elaine Stritch: Shoot Me and Jiro Dreams of Sushi. Check out the trailer below!