Hot Docs 2015: Over the Rainbow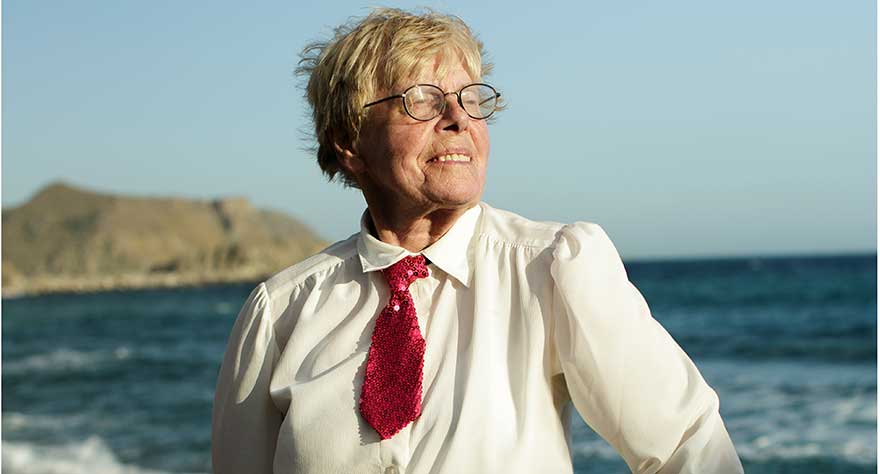 Leny Wiggers has known love only once in her life. While on vacation in New Zealand, she met another woman and fell so far in love, she finally came out of the closet. She was 68 years old.
Making its international premiere at Hot Docs 2015 is Over the Rainbow, a delightful film about the now-80-year-old Leny and her life, courtesy of writer/director Tara Fallaux. Unlike many documentaries about individual subjects, this one, which clocks in at a lithe 39 minutes, doesn't have a lot of detail to offer, either from the past or in the present.
In the past, Leny honored her dying father's request and, from the age of 12, remained with her mother until the matriarch's passing some 56 years later. As she answered the call of familial service and bore the burden of sexual secrecy, she watched everyone—including her own sister—grow up and move on with their lives.
Since the sad passing of her mother, and since her glorious emergence from the closet, the octogenarian has been making up for the time she seems to have lost to service and secrecy. She attends rallies and parades, offers stories and wisdom to other lesbians she meets, and parties pretty hard in discos, too. More often than not in her travels, Leny is the center of attention, and deservedly so.
Again, there is not much in the way of a life so full of occurrences as to warrant great detail of story, but this film isn't about story; it's about theme and inspiration.
The recurring theme of Leny's life is one of freedom: from the absence of it to the reveling in it to the yearning for as much more of it as possible. Borne from that theme, and as a byproduct of Leny's life path, comes the inspiration that sacrifice is not eternal, love can be found on any point along a timeline, and being alive means having life and when you have life, you have something you can make the most of.