Outfest 2015: Summer of Sangaile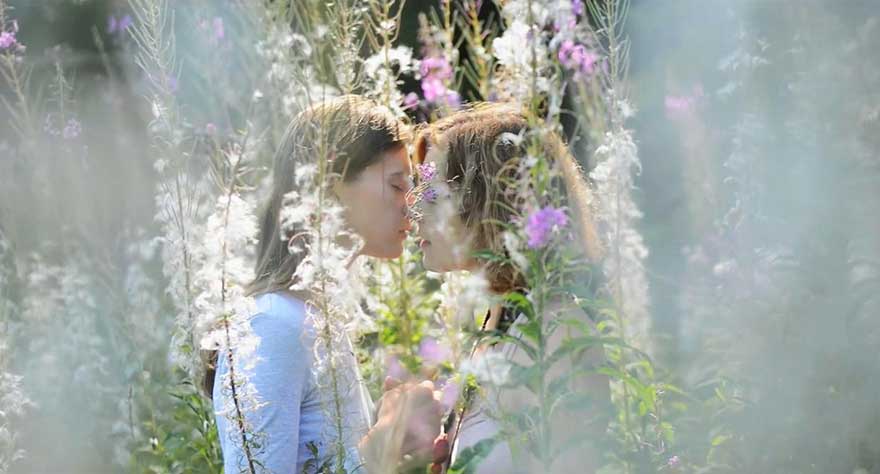 European filmmakers have a tendency to look at young love with unbridled honesty, which often results in sincere, interesting movies. Alanté Kavaïté's Lithuanian coming-of-age drama Summer of Sangaile delivers a genuine look at the lives of two young girls approaching adulthood while struggling to come to terms with who they are.
Sangaile (Julija Steponaityte) is a teenage girl with a peculiar fascination with stunt planes. When she meets Auste (Aiste Dirziute), an outgoing young fashionista, they quickly become friends. As the two young women grow closer, they develop a relationship that allows them both to discover things they never knew about themselves.
Summer of Sangaile feels very much like a film from the late '90s. From the warm nature of its cinematography to the generally upbeat, summertime vibe throughout, Summer of Sangaile is stylistically unlike most similarly constructed coming-of-age dramas from the last several years.
As is the case with plenty of films involving pilots and planes, Summer of Sangaile is heavily metaphorical in regards to Sangaile's inability to "fly." Just as she cannot fly an airplane, she cannot be herself due to outside pressure and internal struggle. It's extremely on the nose in that sense, but wonderful performances from both lead actresses and Kavaïté's ability to keep the story grounded prevent things from ever feeling hokey. This is especially important later on in the film when some darker themes are introduced.
Despite a few scenes dragging a bit longer than they should, Summer of Sangaile more than makes up for its mild pacing issues with a superb soundtrack, stellar performances, and surprisingly unique characters. Fans of unusual, inherently European love stories are sure to appreciate what Kavaïté is going for here.