NYFF 2014: Gone Girl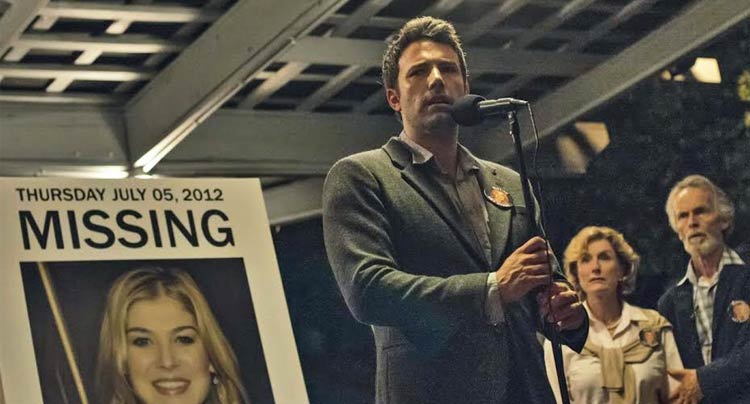 David Fincher's latest endeavor Gone Girl may be his coldest entry yet into a filmography already full of cold works. A deeply misanthropic, thrilling, unpredictable take on a missing person's case and ensuing media storm that surrounds it.
Ben Affleck stars as Nick Dunne, whose wife Amy Dunne (Rosamund Pike, with a breakout performance) goes missing on their 5th wedding anniversary. The mystery of her sudden disappearance is compounded by the trail of breadcrumbs left in her absence, the sum of which only leads to more confusion as to her whereabouts. As the search for "Amazing Amy" intensifies, the spotlight turns to Nick Dunne when his character comes under scrutiny that leads others to question his innocence.
Each new detail adds a new turn to the story and this branch of the news media is always ready to pounce on the allegations. Fincher's handling of the satirical elements is some of the most biting commentary in his career, and fills a largely disturbing film with hearty laughs. Missi Pyle plays news show host Ellen Abbott, a scandal-monger so infuriating she'll make you miss Nancy Grace, a clear inspiration for her role.
Gillian Flynn adapted her own best-selling novel here into a terse, fast-paced screenplay. Gone Girl lives in the ethical grey areas that Fincher habitually explores, but thrives on its ability to show you new information and then illustrate how that revelation can be manipulated or not representative of the full truth. Gone Girl is a fully immersive procedural, and likely one of the most entertaining films of 2014. Fincher proves he is at the top of his game and in full command of his craft with Gone Girl.
Read our full Gone Girl review.