Now Streaming: Movies and TV to Watch at Home This Weekend – April 24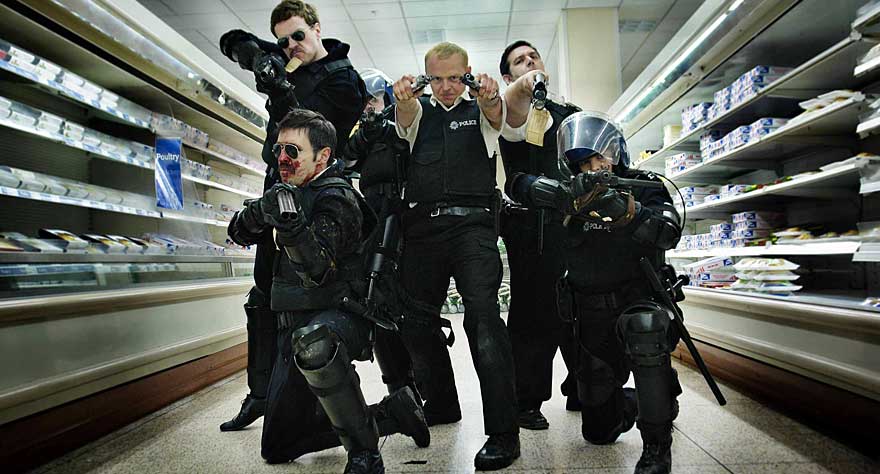 The end of the month is always a sad time for streaming sites. As the calendar page turns, many films and television shows vanish into the physical media ether. This weekend may be a good time to catch up, re-watch and discover these films for obviously the last time they are conveniently streamable. Check out some of the best titles that will be disappearing from Netflix below. (Oh, there's some good new titles streaming this week that you'll want to check out, too…)
Netflix
Hot Fuzz (Edgar Wright, 2007)
Possibly the funniest film of the Frost-Pegg-Wright films, Hot Fuzz sets it sight on '80s and '90s buddy action films to hilarious effect. Simon Pegg plays big-time city cop Nicholas Angel who is reassigned to the sleepy (and elderly) town of Sandford, Gloucestershire. His wish for some action eventually comes through when residents start getting murdered by a hooded man. Like all of Wright's work, it works on two separately amazing levels—it is a balls-to-the-wall action film, as satisfying as any big-time Hollywood explosion flick, but also an intensely loving send-up of them.
Other titles new to Netflix this week:
Fed Up (Stephanie Soechtig, 2014)
A Girl Walks Home Alone at Night (Ana Lily Amirpour, 2014)
Planet Earth: The Complete Collection (Series)
They Came Together (David Wain, 2014)
Amazon Prime
Son of a Gun (Julius Avery, 2014)
Australia has quickly become a haven for gritty and violent action films—Son of a Gun is a decent entry into this burgeoning genre. The film stars Brandon Thwaites (Oculus, The Signal) as a young kid who ends up in jail for a minor crime. There, he becomes close with Brendan Lynch (Ewen McGregor), the island's most notorious bank robber. The film's first half is a stylish prison film before becoming an over-the-top action flick. The fibers don't totally meet up, but Son of a Gun is definitely fresh and fun.
Other titles new to Amazon Prime this week:
Noah (Darren Aronofsky, 2014)
Sons of Anarchy (Season 7)
Still Life (Uberto Pasolini, 2013)
Fandor
The Gold Rush (Charles Chaplin, 1925)
One of Chaplin's funniest films (which automatically makes it one of the funniest films of all time), The Gold Rush is simply master silent filmmaking. In this one, the lovable scamp finds himself in the Yukon Territory where gold has been struck. It's a brilliant film throughout, with some of the most iconic gags of all time. The film is being released in their Criterion "Compare and Contrast" Collection, available until May 3. This group of films looks at interesting remakes, adaptations and re-imaginings from their Criterion selections. As part of this, you can see both versions of Chaplin's film: the 1925 original and the 1942 re-release with Chaplin's narration. The 1942 version gets a lot of flack, but Chaplin shows off the expert word-smithing that defined his later-period films.
Other titles new to Fandor this week:
The Almost Man (Martin Lund, 2012)
Floating Weeds (Yasujirô Ozu, 1959)
The Lower Depths (Jean Renoir, 1936)
The Lower Depths (Akira Kurosawa, 1957)
Safety Last! (Fred C. Newmeyer & Sam Taylor, 1923)
Remember! Most films added to Fandor are only there for a limited time, so don't wait!
Catch'Em While You Can, Expiring Soon
These titles are expiring from Netflix on April 30:
Airplane! (Jim Abrahams, David Zucker & Jerry Zucker, 1980)
Boys Don't Cry (Kimberly Peirce, 1999)
The Brothers Bloom (Rian Johnson, 2008)
Fantastic Voyage (Richard Fleischer, 1966)
Ichi the Killer (Takashi Miike, 2001)
Life Is Beautiful (Roberto Benigni, 1997)
Robocop (Paul Verhoeven, 1987)
Romancing the Stone (Robert Zemeckis, 1984)
Sabrina (Billy Wilder, 1954)
The Secret Life of the American Teenager (Series)
The Secret of NIMH (Don Bluth, 1982)
Valkyrie (Bryan Singer, 2008)