ND/NF 2015: Theeb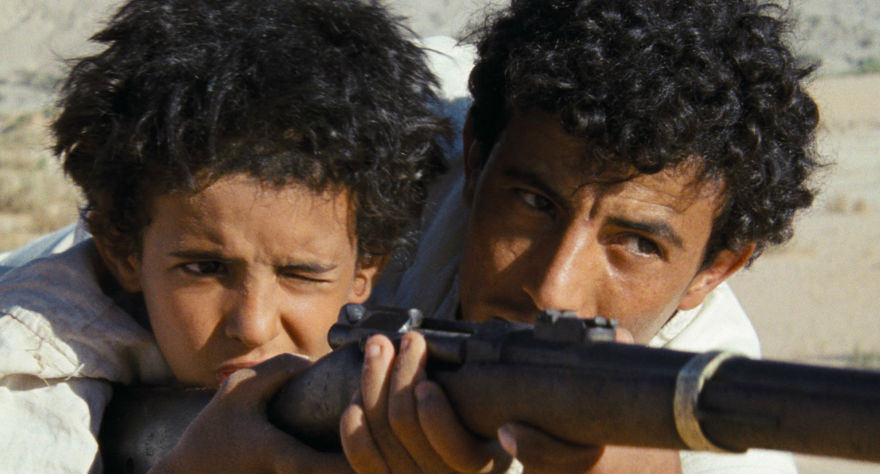 The first feature from director Naji Abu Nowar, Theeb is a classically-minded refresher compared to the more arty material playing at ND/NF this year. The film, which picked up an Orizzonti award for Best Director at last year's Venice Film Festival, puts a human story within an epic, historical context. Theeb (Jacir Eid) is a young member of a Bedouin tribe in the Arabian Desert. One night, a British soldier (Jack Fox) arrives at the camp requesting help, and the tribe gives him Theeb's brother Hussein (Hussein Salameh) as a guide to help him get where he needs to go (it's Bedouin custom to protect any guest requesting their help). Theeb joins Hussein and the soldier on their journey, but by doing so the two brothers soon find themselves thrown headfirst into a war they never wanted to be part of.
Nowar used non-actors in most of the roles for his film, using members of one of the last Bedouin tribes to make up his cast. That choice, combined with Nowar's refusal to provide any sense of establishment for the audience, throwing them directly into Theeb's world, adds a feeling of authenticity to the proceedings. That helps especially when Nowar suddenly changes things up partway through, introducing a tragic set of circumstances pushing Theeb into truly unexpected areas. The sudden change of plot, done through a breathlessly intense sequence, never threatens to veer things off course due to Nowar's patient, measured camerawork.
For the sake of spoilers, I won't reveal much about what happens in Theeb. What I can say is that it turns into a fascinating coming-of-age tale, along with a story about two unlikely people coming together out of the need for survival. For a cast comprised of non-professionals, Nowar gets remarkable performances from the cast, with Jacir Eid easily carrying the film's weight on his young shoulders. Theeb is a mature, well-realized effort that brings to mind some of Hollywood's old westerns and epics (anyone watching this will inevitably think of Lawrence of Arabia at some point). And by taking the perspective of the Bedouin tribe, a voice rarely heard or listened to anywhere (and dwindling fast from existence), Nowar subtly provides a refreshing spin on a classic story.