ND/NF 2015: White God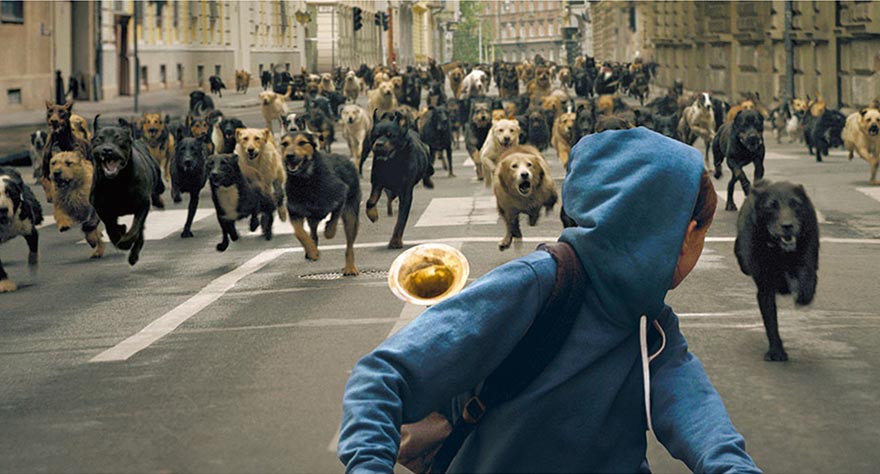 It's disappointing to see White God's marketing put so much emphasis on the climax, where canine protagonist Hagen (played by brothers Luke and Bodie Miller) rallies hundreds of other dogs into an uprising against humans. While I can't blame the need to show off director Kornel Mundruczo's incredible feat (I don't think anyone has achieved what he's done here), it's obvious from the beginning that the epic conclusion is meant to be a surprise. White God starts off as a family drama of sorts, when 13-year-old Lili (Zsofia Psotta) gets sent to live with her father (Sandor Zsostar) after her mom leaves the country. Lili brings Hagen along to her father's apartment, only to have him abandon her dog on the streets after he loses his patience with the mutt.
Mundruczo focuses on Hagen after he gets abandoned, crosscutting between his attempts to survive as a stray and Lili's efforts to find her beloved pet. It doesn't come as a surprise that Hagen's scenes are far more engrossing to watch than the by-the-numbers father/daughter drama going on, but Mundruczo has a point (I guess). Both Hagen and Lili are going through rough times, facing oppression from superiors around them, and Mundruczo parallels their stories before eventually bringing them back together. As an allegory for society's underprivileged fighting back, White God isn't especially great; Lili and Hagen's relationship is too specific, making any extensions to the real world easily fall apart. In fact, it's the humans that wind up hurting things, as any scene without Hagen makes the pace slow to a crawl. But once Hagen begins his grand scale attack on Budapest, it's easy to sit back and enjoy the elaborately prepared chaos on display (animal trainer Teresa Miller deserves just as much credit as Mundruczo for pulling everything off with hundreds of shelter dogs). White God's attempts to merge arthouse sensibilities with B-movie fun tends to be hit or miss, but while Mundruczo may falter on the arthouse side, he certainly knows how to make an entertaining genre film.