ND/NF 2015: The Tribe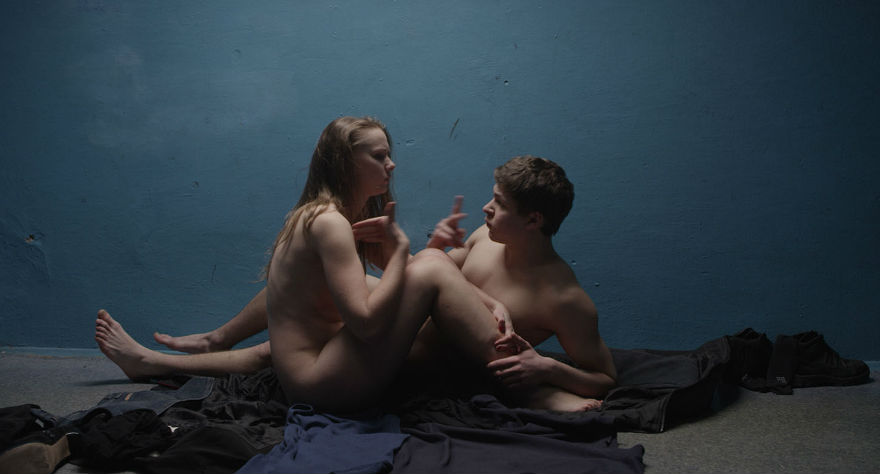 The Tribe begins with a brief notice about the subsequent film, one that could be easily interpreted as a warning. The text states that the film is entirely in sign language; there will be no subtitles, translations, or narration. From that point, first-time feature filmmaker Miroslav Slaboshpitsky allows his story to unfold without any spoken dialog (tough luck unless you're versed in Ukrainian sign language). That's not to say The Tribe is a silent movie. The atmospheric noise and limited vocalizations from its cast of deaf actors provides a subdued, ominous soundtrack that instills a sense of impending disaster.
The Ukrainian film takes place at a boarding school for the deaf, following Sergei (Grigory Fesenko) as he adjusts to life at the new school. One of The Tribe's first scenes involves a student being disruptive in class, and as the he and the teacher sign towards one another, the dynamics of their interaction become clear. The uneasiness created by the inability to "understand" what the characters are communicating starts to wane. After all, just because this is a school for the deaf doesn't mean there won't be a class clown, and a teacher tired of his antics. Likewise, as the new kid, Sergei begins The Tribe as a social outcast who is quickly befriended by another boy at the school.
However, Sergei's new friend group aren't ordinary teenage boys, they're part of an organized crime syndicate that runs through the school. After some hazing Sergei gains acceptance into the crew, becoming an underling to the kingpin along with his dorm mates. Sergei eventually graduates to truck stop pimp, facilitating transactions for the young prostitutes Anya and Svetka (the film's primary two female roles). Sergei eventually falls for Anya, but the story surrounding their teenage love affair becomes increasingly brutal and excessively violent by the movie's end.
Each scene within The Tribe is shot in a single, often stunning long take. Cinematographer Valentyn Vasyanovych's camera glides alongside the actors with beautifully framed images. Writer/director Slaboshpitsky weaves the story within a structure that follows dramatic but puzzling scenes, with scenes that explains the earlier sequence's significance. It's a clever construct, but one that's utilized to a frustrating degree over the course of The Tribe's 132-minute runtime.
The framework of The Tribe is fascinating; yet, the story contained within it is not quite as compelling as its central narrative hook. Still, there's plenty of admirable film craft on display in Slaboshpitsky's film and watching the rich world portrayed in The Tribe slowly reveal itself is a mostly gripping experience. Though it ultimately feels overlong, the sheer boldness of the endeavor makes The Tribe all the more notable. Slaboshpitsky's debut movie is a strange, dark, wholly unique coming-of-age journey.