ND/NF 2015: Los Hongos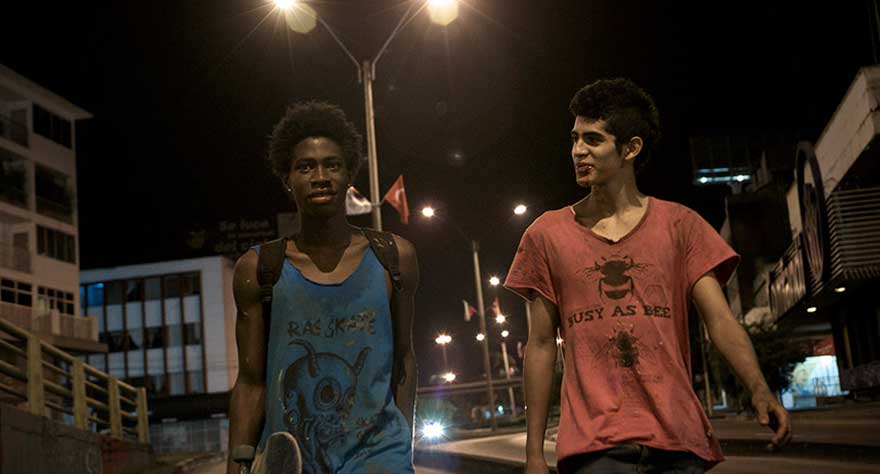 Directed by Oscar Ruiz Navia, Los Hongos follows teenage friends Calvin (Calvin Buenaventura Tascon) and Ras (Jovan Alexis Maquinez Angulo) who, inspired by the resistance shown within the Arab Spring, immerse themselves in the street art scene of the Colombian city of Cali. Ras has to steal paint from his job in order to create street art, whilst Calvin is bank-rolled by his father (Gustovo Ruiz Montoya), attending art classes to improve his technique.
There is not a great deal of plot in Los Hongos. The film meanders along at a snails pace, with Navia not keen to lead the audience by the hand, or even give the plot any real direction. The main arc initially appears to be about street art, and Calvin and Ras' emergence within a counter cultural group expressing their disillusionment with the current political class. However, beyond the initial Arab Spring comparisons, we gain little insight into the reasons why Calvin and Ras feel oppressed by their government. Only two scenes hint at Colombia's systemic problems: one involving Calvin's father describing issues with the country's drug gangs, and another alluding to the potentially problematic ties between church and state. Navia's commentary is brief and lacks any real impact, taking the life out of a film that's clearly frustrated with its own country's political situation.
The film's political commentary might fail to land any heavy blows, but Navia's emphasis on the two characters' struggle with growing up strikes a chord. Ras struggles to break away from the expectations of his family to find work and settle down, whilst Calvin is given carte blanche by his father who, despite his financial support, appears more interested in himself than his own son. Yet, despite their different backgrounds, Calvin and Ras are drawn together in their search to establish a sense of identity, as symbolized pertinently by their desire to create distinctive art. Their shared struggle is easily the most powerful message of the film. The slow pace of Los Hongos' makes it a difficult film to enjoy at times. However it does give both actors ample room to explore their characters, providing brilliant performances that give off a sense of authenticity in its portrayal of life in Cali.
Navia also surrounds Los Hongos with distinctive characters, giving his film a much-needed boost of energy. Calvin's father is uniquely quirky, a charismatic opera singer who practices in his bathroom mirror to his neighbours' morning alarm, while Calvin and Ras' graffiti artist friends—including one who only talks through a gas mask—are also colourful characters. The best supporting character is Calvin's grandmother Norma, (Atala Estrada) whose frank honesty with Calvin on the pitfalls of alcohol and girls provides some of the film's funniest moments.
Los Hongos is not without flaws. Its political commentary is underdeveloped, and a lack of narrative structure gives off a frustrating level of ambiguity and aimlessness at times. Yet Navia's observations on life are poignant, and Los Hongos shows promise from a talented director.