My Blind Brother (Tribeca Review)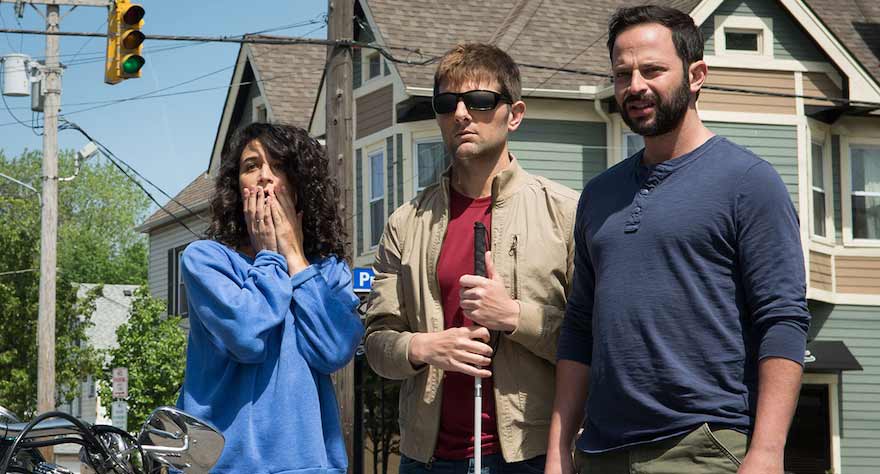 Two siblings' underlying resentment for one another is put to the test by a new love interest in My Blind Brother, a rom-com that often feels like it's cutting with a blunt edge. In a clever bit of character building, the film opens with Robbie (Adam Scott) effortlessly running through the end of a marathon while his brother, an able-sighted Bill (Nick Kroll) sweats the last leg out trailing behind on Robbie's guide rope. Here both the plot and joke remains purely on the surface; Bill's life and accomplishments are performed in his blind brother's shadow. Often, the unsatisfying aspect to Sophie Goodhart's directorial debut is in its inability to mine its premise further.
The brothers become increasingly petty to one another over Robbie's new girlfriend Francie (Jenny Slate), a woman in crisis after her ex-boyfriend gets blindsided by a bus. Slate and Kroll have worked together previously and share a dynamic chemistry on-screen as a romantic pair. Her presence elicits a warmer, more verbally unhinged side to his character—the only version of him in My Blind Brother with charisma. She also has moments of unexpected vulgarity spoken with her delightful, squeaky tone. This movie and everyone in it knows that Francie is dating the wrong brother; however, in the frustrating tradition of romantic comedies, the tension is left to linger everyone cowers away from confrontation.
Considering the level of comedic talent involved, one of the most surprising elements to My Blind Brother is its saccharine quality. Robbie is treated as an unrepentant dick throughout the movie, only to be given a tearful confession at the movie's end. The character's disability provides a few solid gags but is handled with a level of naturalism. Kroll, Scott and Slate are all charming presences in their roles—as is a totally magnetic and slightly underserved Zoe Kazan as Slate's roommate—but knowing each of those actors' penchants for hilarity, My Blind Brother feels lean on humor.
My Blind Brother is mostly amusing and its performances are strong, however, the tone remains unwavering until the film's ending: lightly comedic, but unrelentingly self-serious. With so little actively happening in the plot the movie grows dull between stretches of more consistent humor. Sophie Goodhart's My Blind Brother is thinly plotted and familiar, but this mostly pleasant comedy has a winning romance at its center which elevates the film beyond standard fare.