MVFF38 Diary Day 4: 'Angelica,' 'Son of Saul'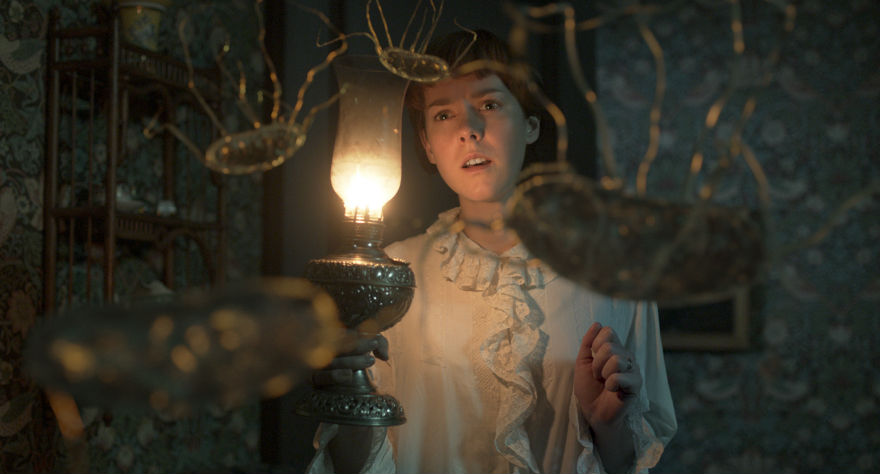 At this point in the festival, I was more than a little burned out on movies that made me feel down in the dumps. Every single movie I've covered so far has dealt with dark subject matter, from Spotlight's Catholic church scandal to Miss You Already's cancer coping, to I Smile Back's onslaught of misery and moping. Even Here Is Harold, while incredibly funny, follows a character digging himself out of a suicidal hole.
My dumpiness reached critical mass when I started day four with Son of Saul, a grimy Holocaust drama by debuting director László Nemes. Suffice it to say, I was not a fun person to be around following the screening. I dreaded heading into my next film, Mitchell Lichtenstein's Angelica, which was advertised as a "haunting tale of unfed appetites and the damage they can wreak." That sounded like the last thing I needed to see at the time—but it turned out to be the best thing and my biggest surprise of the festival.
Right Behind You
Before we get to Angelica, I need to talk about Son of Saul, which was, as I alluded to, a devastating experience, and yet also a beautiful, unforgettable one. I've been wanting to see it since it won the Grand Prix at Cannes, and it surpassed my expectations. Géza Röhrig plays Saul, a Jewish prisoner of the Nazis and member of the Sonderkommando unit whose job is to stack corpses for incineration. When he finds a body he believes to be his son's, he makes it his mission to arrange a proper burial while the rest of his unit plots a rebellion against their captors. Immediately striking is director László Nemes and cinematographer Mátyás Erdély's camerawork, which for long stretches stays inches behind Saul, almost filling the screen with his back as he hurries around the camp, the world around him a literal blur of movement, shape, and color. The effect is astonishing and views the Holocaust in a nightmarish way I've never seen before. As you can imagine, an experiential Holocaust film is one of the hardest things one could sit through, but Son of Saul is an outstanding, transcendent work of art that, amazingly, came from a first-time director.
Mommy's Mental
Heading into Mitchell Lichtenstein's Angelica, I was a bit of a mess, still reeling from Saul. But my spirits were promptly lifted when the lights dimmed and I was treated to a wonderfully weird Victorian ghost story that had the audience cringing and gasping in the most fun, wickedly delicious way. The movie follows Constance Barton (Jena Malone), a mother forbidden to make love to her husband (Ed Stoppard) following the complicated, life-threatening birth of their daughter, Angelica. When sexual frustration and obsessive over-protectiveness of her daughter begin to wind Constance up beyond recognition, a spectre begins visiting the house, sexually tormenting her and threatening to do the same to young Angelica. Angelica is a deliberately paced mind-bender with exquisite cinematography (from the great Dick Pope) that gets more bizarre and frightening as it goes.
The film lifted me out of my emotional slump, and for that I'm thankful. I was also thankful to be in attendance for the subsequent Q&A with Lichtenstein and Malone, who made a surprise appearance. The audience and talent had a nice rapport, volleying ideas about the film's rich themes and influences like Henry James and Edgar Allen Poe. Malone even went so far as to say it was the best Q&A audience she'd ever been in front of! My favorite insight came from Malone, who recalled her sister taking the film as a lesbian love story, an angle Malone hadn't considered.