MVFF37 Day 3: Elle Fanning Receives Mill Valley Award For 'Low Down'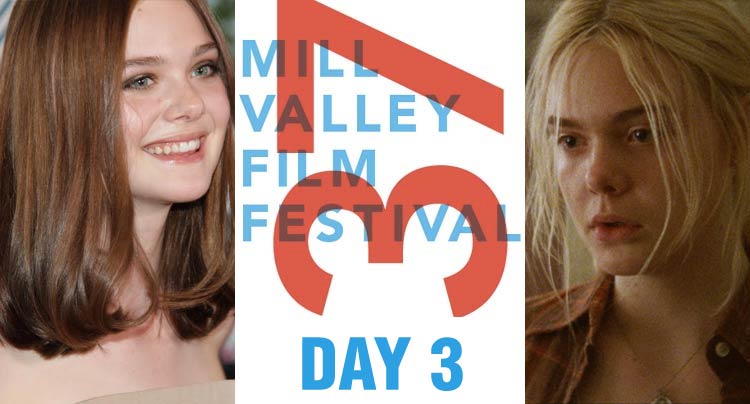 At just 16 years old, Elle Fanning has become the youngest recipient of the Mill Valley award in the festival's 37-year history. Earning her the honor was her heartbreaking performance in Low Down, the feature debut of director Jeff Preiss in which she plays Amy-Jo Albany, the real life daughter of critically lauded, woefully drug-addicted jazz pianist Joe Albany (played here by John Hawkes).
Following a red carpet stroll by Preiss and Fanning (who was shockingly tall in person) at the Smith Rafael Film Center in San Rafael, the director and his star sat in the audience, foregoing an onstage introduction to experience the film alongside everyone else. Fanning did take the stage after the screening to accept the award, presented by festival Executive Director Mark Fishkin and festival Director of Programming Zoë Elton, as well as participate in a Q&A, which Preiss joined in on as well.
This slideshow requires JavaScript.
Fanning was visibly giddy on stage (hell, I would be too if I were receiving an award the same year I got my driver's license), overwhelmed by the crowd's warm reception. As Elton said during the award presentation, the role seems to be a transitional one for the young actress, as the material is darker than anything she's yet done. Joe Albany's addictions ruled his life, consequently leading to him failing his daughter in many ways, on many occasions. But as Fanning's Amy-Jo says in the film's opening monologue, the girl loved her father "out of all proportion".
"I think she's the most incredible lady in the world," Fanning said of Amy-Jo. "She [saw so many things living with her dad] that someone that young probably should not have seen, but dealt with it." With her father hanging around with his druggy friends in their run-down Hollywood apartment, sometimes popping in and out of jail, and on one occasion abandoning her for two years as he traveled to Europe, Amy-Jo had every reason to resent him and his neglectful non-parenting. But her love for him never wavered, and she continued support him through all the pain he put her through. "Even though she hates him at times and is angry with his choices, there's always the love there. If anyone said something negative about her dad, she'd stick up for him, even if she thought he was wrong."
The complexity of Fanning's role would be tricky for an actor three times her age, but she manages to rise to the occasion and outshine her cast mates. With Hawkes, Glenn Close (as her grandmother) and Lena Headey (as her awful, absentee mother) sharing the screen with her, this is no small feat.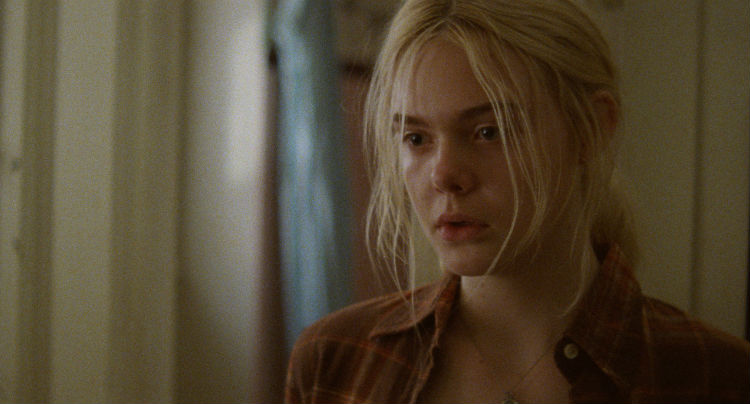 The real life Amy-Jo was on set for the filming of the movie, making herself available to Fanning for reference. "With Amy, I was really nervous about asking questions. She said, 'Ask me anything!', and I'd just go blank." Fanning did say that she's now more comfortable asking questions of real life subjects (in her next film, Trumbo, she plays Nikola Trumbo, daughter of blacklisted Hollywood screenwriter Dalton Trumbo), a lesson she learned from Close on the set of Low Down. "Glenn would just pick Amy's brain apart," Fanning said of her veteran co-star. "I definitely learned a lot from Glenn. She even had some fake teeth made for the role."
Set in the '70s, the film utilizes that signature mustard color palette to convey the dusty, smelly Hollywood atmosphere. Though Fanning steals the show, the rest of the cast (which also includes Caleb Landry Jones, Flea, and Peter Dinklage) turn in excellent performances as well. Preiss and screenwriter Topper Lilien have fashioned a film that's too meandering and one-note to be a worthy vehicle for the actors' work. The film covers every trope in the drug-addition sub-genre, and while story's authenticity is indisputable (the real Amy-Jo was heavily involve, after all), it nonetheless disappoints, cinematically.
Still, as an entry in Fanning's filmography, Low Down is a watershed moment in her young career. She was all smiles as she received a standing ovation in the packed theater, holding her award in one hand. I predict we'll see her holding many more shiny statues as her bright career unfolds.